NC330SW—Station Database Editing and Programming Utility
The most requested feature of TekTone's Tek-CARE NC300 II nurse call system was the ability to save station programming data. So TekCARE NC300 II saves station programming—including architectural numbering, labels and zone assignments—as a separate database file.
The next feature requested was the ability to edit station programming data offline on a PC or laptop computer. Well once again, you asked and we listened!
With the NC330SW Database Editing Utility, you can open the station programming database file in a spreadsheet program (such as Microsoft® Excel) and edit each field. Edit the database file on the PC in your office or on a laptop at the job site, and then download the edited file to the nurse call system. This is a great time saver when setting up several buildings in a facility that have the same floor plans. After the database file has been created, all the buildings can be programmed with the same database file, or uniform changes can be made to existing systems.
The Tek-CARE NC300 II nurse call system must include at least one NC304 or NC304LCD master station, because only these masters use a station programming database.
After the nurse call system terminations and the last restore defaults or detect system stations have been completed, fill out the Port Programming Sheets in the IL715 installation manual. Then upload the file stations.db from the Tek-CARE NC300 II system to a PC or laptop, or start with the blank stations.db file provided with the utility.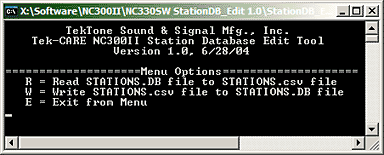 The NC330SW utility is very straightforward and easy to use. The menu is shown at right.
Edit the database file with a spreadsheet program, and then download it to the NC304 or NC304LCD master station. Then at the master station, perform the Transmit Station Database function (if there is more then one master station), followed by the Detect System Stations function, and the system is ready to go.
Download the NC330SW Station Database and Editing Utility bundled together with its Installation Instructions, IL828. (Password required. Call US & Canada Sales to obtain one. You will also need a program that can unzip files with the .zip extension. NC330SW requires a personal computer running Microsoft Windows® 98 or XP.)