Tek-CARE400 GEN3 Nurse Call System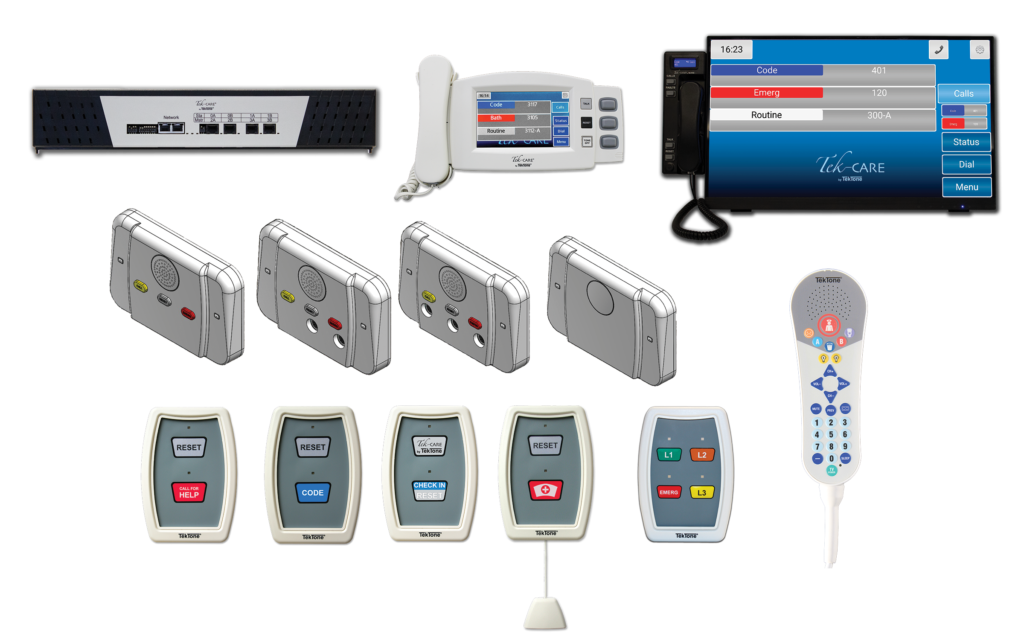 The Tek-CARE400 GEN3 TekTone's newest high-end nurse call system. This system has completely redesigned Patient Stations with a revamped appearance and a brand-new snap on mounting design, ensuring a clean look. The Tek-CARE400 GEN3 customizability creates a user friendly system for both staff and patients.
The system features:
Tri-color LEDs for call indication
One or two jacks for call cords or pillow speakers
DIN plug with two ¼" phono jacks for AUX inputs
Interfaces for up to 6 TC120 peripherals, dome lights, bed receptacle and dry contact output
Three programmable push buttons
Button caps available: CALL, CODE, EMERG, RESET, BLANK, CHECK-IN
No dummy plugs needed to prevent "cord out" call
Three-wire TV interface
No visible mounting screw
The Pillow Speaker is now equipped with a microphone for better patient audio as well as two additional AUX control buttons providing:
Light control buttons: L1, L2,
Environmental control buttons: A, B
AUX buttons: Water, Toilet, and Pain
NC404TS with List and Map Views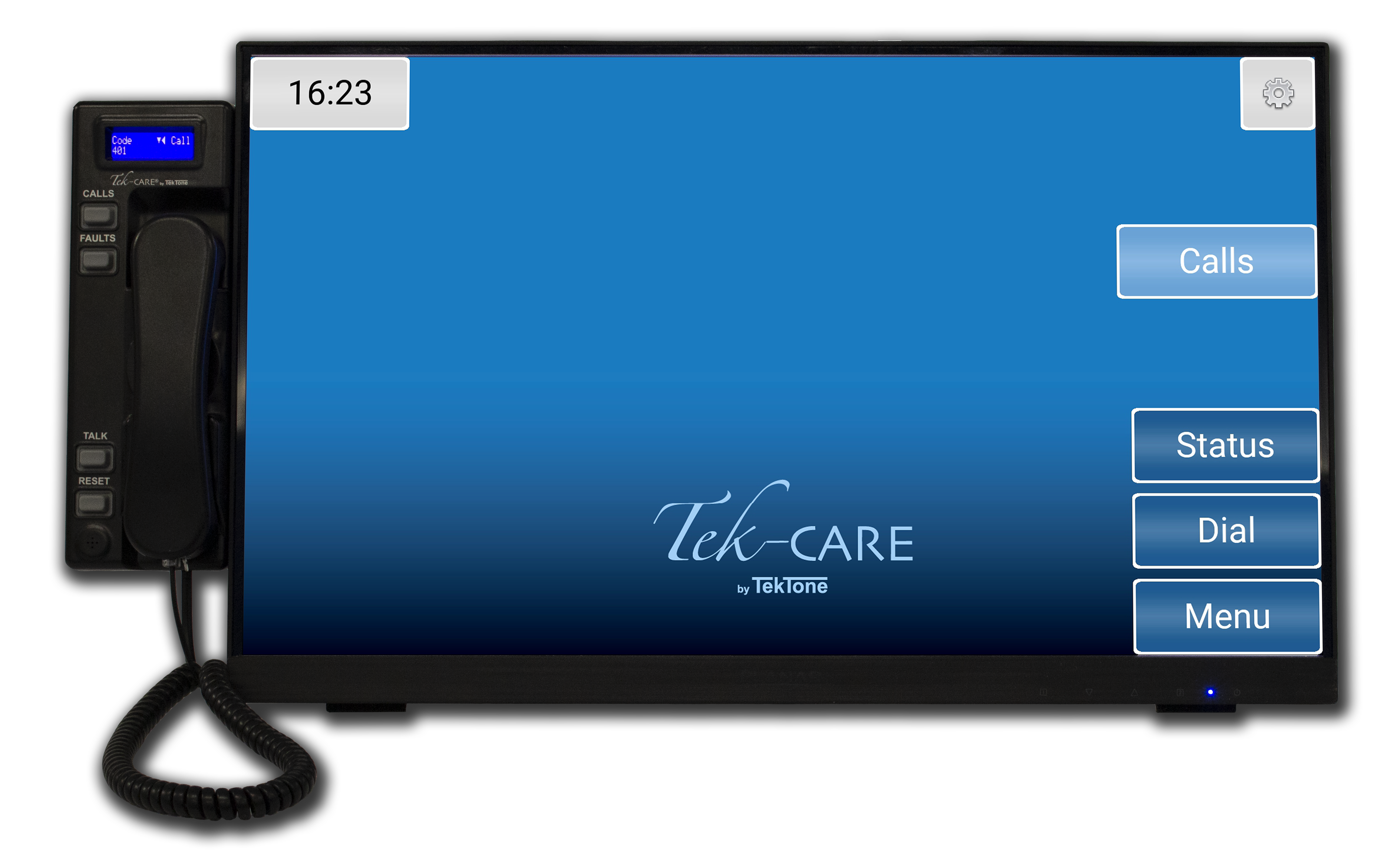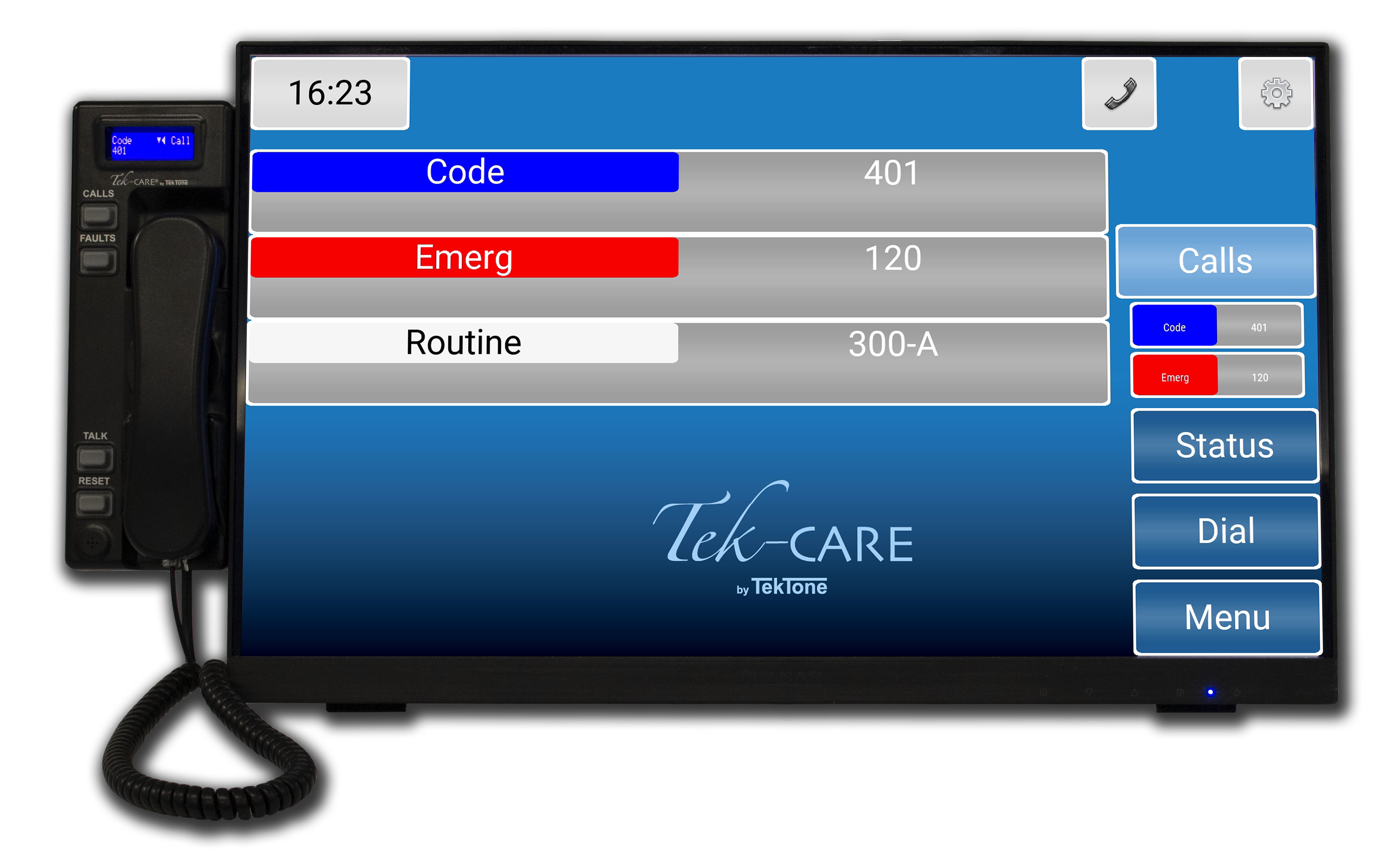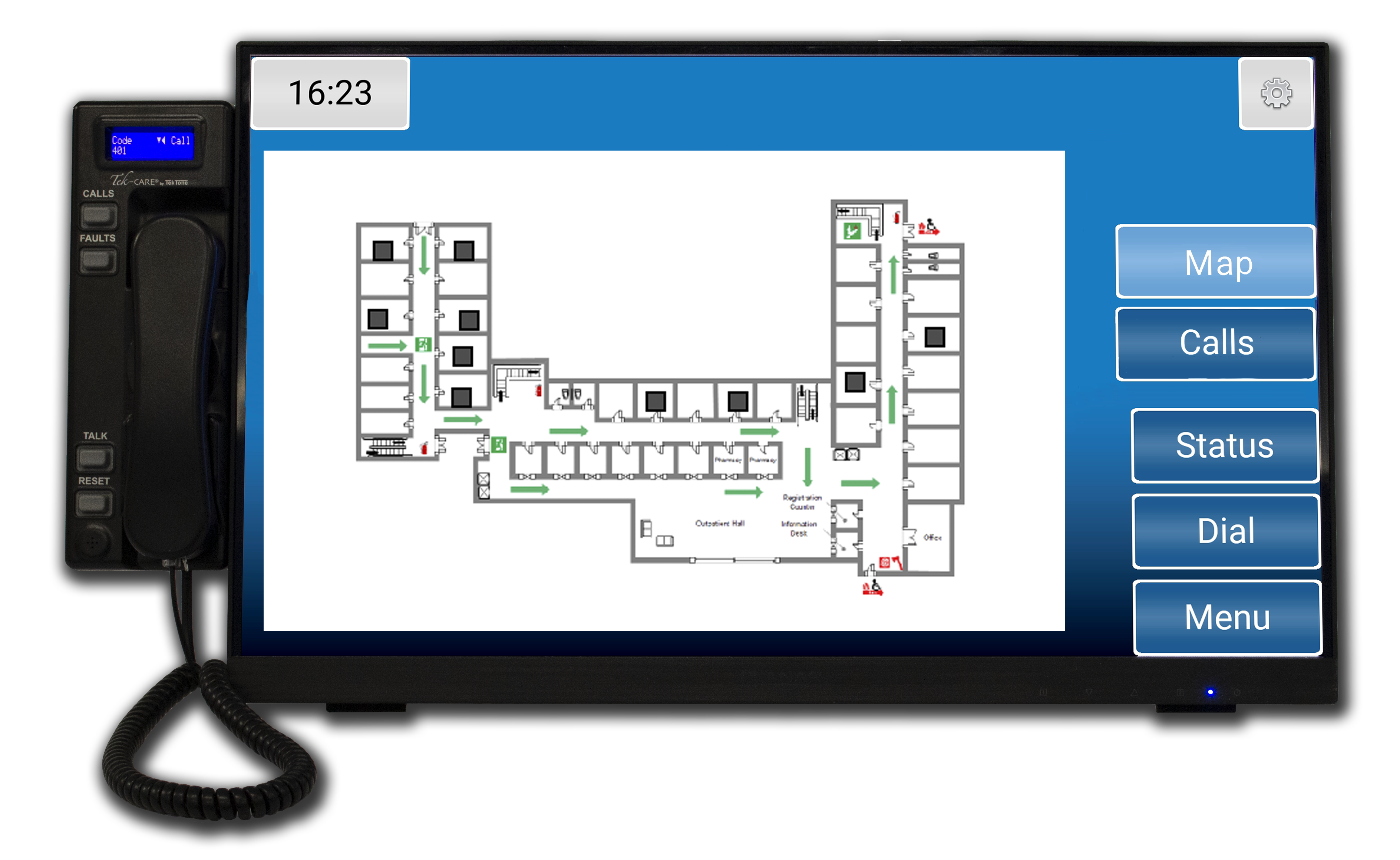 The Tek-CARE400 GEN3 offers two versatile, touchscreen master station options in the NC404TS and the NC415G3, allowing you to decide which option best fits your needs and your budget. Whether sleek and compact, or large with multiple call viewing options, the Tek-CARE400 GEN3 provides master station options for your needs. Both masters utilize a handset option for two-way audio communication and provide touchscreen capabilities.
The GEN3 addressable stations allow residents to open a voice channel between their room and the nurses station, allowing staff to accurately assess the time needed to respond. Stations provide a modern aesthetic and utilize customizable buttons on both patient and peripheral stations. The addressable stations and peripherals are all completely supervised, adding reassurance for maintenance and administration staff alike.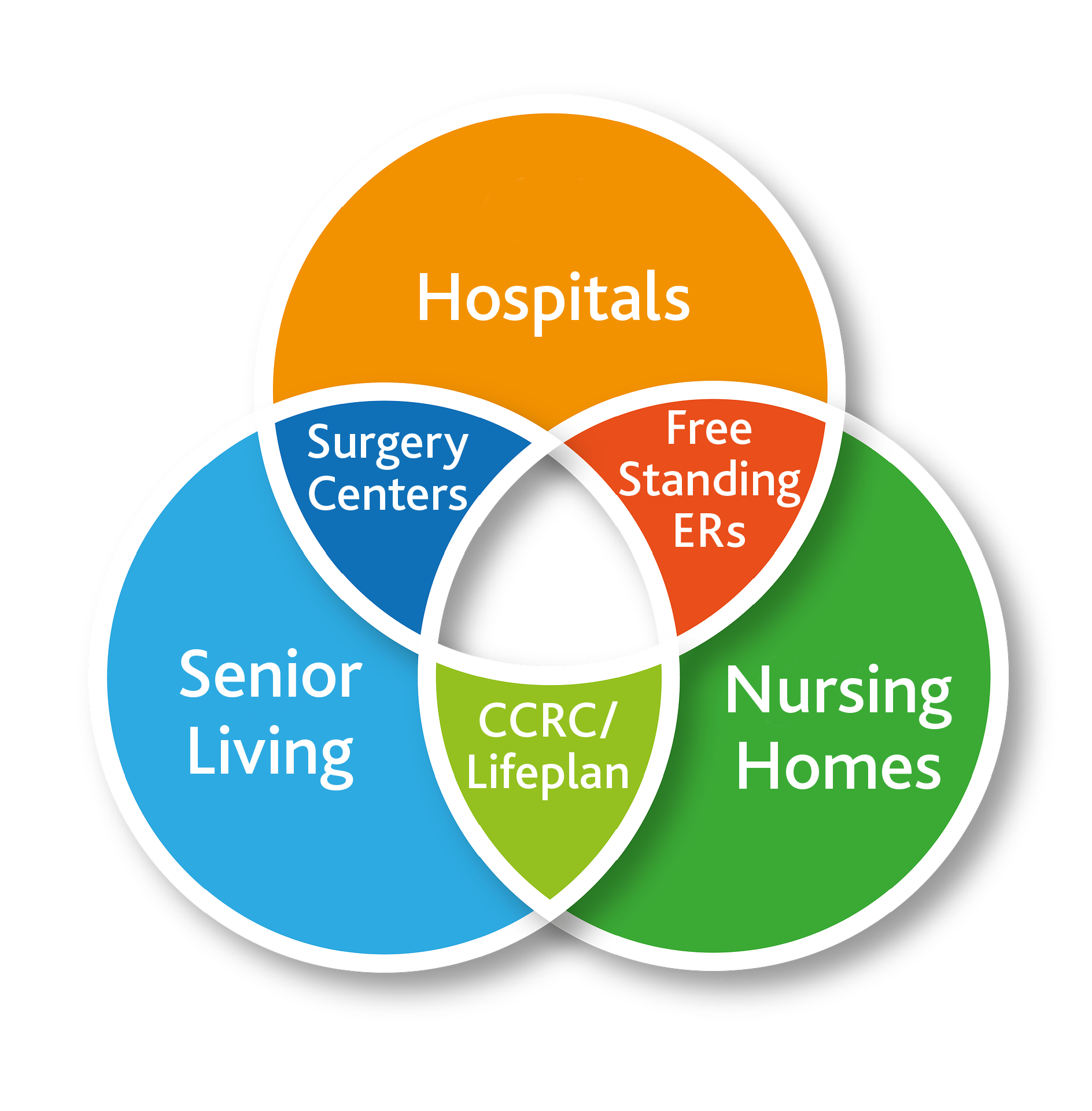 Using the Tek-CARE Appliance Server with the Tek-CARE Staff App integration, calls can also be answered via a networked mobile device during times when a staff member may be responding to another call, making rounds or occupied with another task. Adding the Tek-CARE Appliance Server also allows for the addition of reporting, third party integration, and other software interfaces, such as ADT. An integration with the Tek-CARE platform provides clinical staff with critical communications means and a pathway to more effectively focus their valuable time and energy on patient care. The Tek-CARE platform is a helpful reporting and analytics resource, allowing administration to access reports on workflow, rounding effectiveness, facility events, staffing, request detail and more.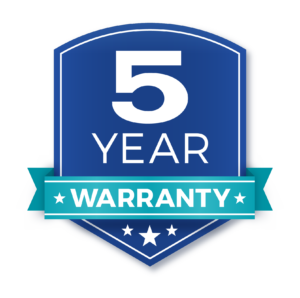 The Tek-CARE400 GEN3 equipment is warranted to be free from defects of material and workmanship under normal use and service for five years from date of delivery (except for paging equipment, call cords, pillow speakers, the Tek-CARE Appliance Server, and refurbished equipment, which have a one-year warranty). 
The Tek-CARE400 GEN3 nurse call system is UL® 1069 and UL® 2560 Listed and cUL® Listed to CSA C22.2 No. 205.
Tek-CARE400 GEN3 is sold through regional TekTone Elite Partners.
To request more information, call our Sales Department at 800.327.8466, option 2, or use our Contact Us form.
MOBILITY
Calls can be received and answered from any networked mobile device to ensure staff always knows when and where help is needed, even when juggling multiple tasks.
EASE-OF-USE
The Tek-CARE platform is simple to use, with touchscreen options and a user-friendly interface. On-duty staff will find interacting with the system a breeze.  
COMMUNICATION
The TC400 GEN3 is designed to keep communication rolling. Full duplex audio, voice-enabled apps and staff messaging can make sure that everyone is on the same page.