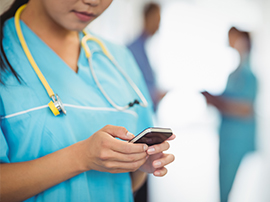 TekTone has UL® Listed nurse call systems to meet the needs of hospitals, nursing homes and assisted-living facilities. Also known as call bell or call light systems, nurse call systems are the communication link between residents or patients and caregivers.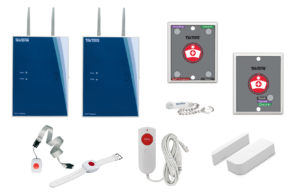 JUST RELEASED!  The Tek-CARE570 system is a versatile wireless nurse/emergency call system that offers a wide range of device options to suit the needs of many types of care facilities. Available devices include emergency call switches, pendant transmitters, door alarms, universal transmitter, and much more. The Tek-CARE570 can be used as a standalone wireless call system using the NC475DESK Tek-CARE Appliance Server as the master station, or it may be connected as a part of a larger TekTone nurse call system using the Tek-CARE Network.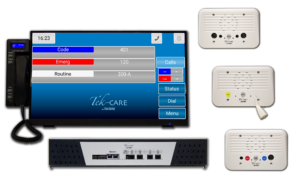 The Tek-CARE400 P5+ is TekTone's most flexible nurse call system, featuring full-duplex, 2-way audio, multicolor dome lights, customizable station buttons and a host of integration options. The Tek-CARE400 P5+ utilizes simple CAT5 wiring and provides users with the ability to create the system that works best for their facility.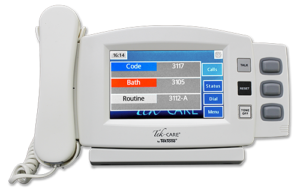 The Tek-CARE160 Two-Way Communication Nurse Call System is a modern and affordable nurse call system that is easy to install, use, and maintain. Featuring customizable peripheral devices, sleek, touchscreen master stations and high-quality two-way voice communication, the Tek-CARE160 is designed to meet the needs of facilities across the entire healthcare spectrum.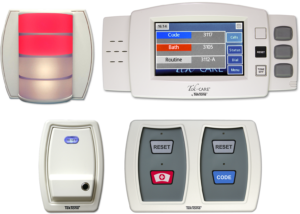 We manufacture a wide range of nurse call systems. The surprisingly affordable tone-visual Tek-CARE120 has a compact touchscreen master station that can be wall- or desk-mounted, pleasant call tones, and attractive stations.
LEGACY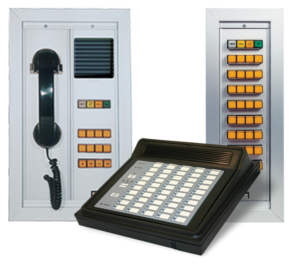 Our most basic direct-select system is the Tek-CARE NC110. This system uses three levels of tones and lights (routine, emergency, and code/fire) to notify staff at the nurse master station, and at dome lights outside of each resident or patient room. Our Tek-CARE NC150 audio-visual system adds two-way voice communication between resident/patient rooms and the nurse call master.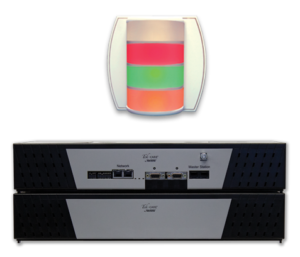 Our mid-range audio/visual system, the Tek-CARE300III, adds many advanced features, such as a master station with color LCD display, continuous display of nurse/aide location, master-to-master intercom, stat calls, and calls displayed in order of priority and origination time. As a result of changing market conditions, advancements in other products within the Tek-CARE Platform, no new Tek-CARE300II/300III systems will be quoted. 
UL
®
 

2560 LISTED WIRELESS NURSE CALL SYSTEMS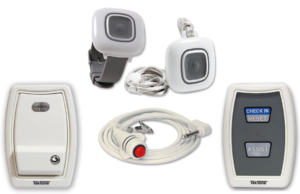 The Tek-CARE500 is a highly configurable UL® 2560 Listed wireless nurse call system. Portable pendants allow residents of assisted living facilities to roam throughout the campus knowing that help is always just a button press away. Wireless call transmitters include emergency and check-in switches, smoke detectors, door and window monitors, and motion detectors.
Our Tek-CARE Event Monitoring and Reporting Software can be added to any TekTone healthcare system. It displays calls from all connected systems, and provides detailed reports on all system activity. TekTone also has a full line of radio pocket paging equipment for use with all of these systems.