TekTone Elite Partners (TEPs)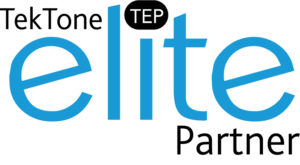 TekTone Elite Partners (TEPs) provide sales, installation and service for nurse call, wander management, and emergency call systems in hospitals, nursing homes and healthcare facilities.
TekTone is constantly working with new innovations and technology to improve our products while continuing to provide unending customer service. Our TekTone Elite Partner (TEP) program is a new form of master distribution and service, created specifically for our Tek-CARE400 P5+ nurse call systems and our Tek-CARE700 wander management system. Download our TEP Product Portfolio brochure.
TEPs know the importance of system continuity in the healthcare market and maintain factory-trained technicians to provide service and maintenance agreements 24 hours a day, 7 days a week to assist healthcare facilities with seamless operation.
This successful program allows a healthcare facility to work directly with a dedicated distributor within their region. This close partnership ensures that a healthcare facility's goals are being met by the most efficient means possible, while the facility benefits from unmatched customer service.
TekTone Elite Partners provide healthcare facilities with:
Sales assistance for the Tek-CARE400 nurse call systems and the Tek-CARE700 wander management system
Installation services
Around-the-clock customer service
Priority service from a nearby distributor
Regular visits
TEPs also have access to our exclusive TEP website (login required).
Visit our Where to Buy page to contact your regional manufacturer's representative or call our Sales Department at 800.327.8466, option 2, to inquire about your nearest TekTone Elite Partner.