eNewsletter Signup
Sign-up for TekTone's eNewsletters! The TekTalk and A & E News eNewsletters are the most efficient channels for keeping up to date with all TekTone products and company news. By subscribing, all of the latest news is delivered directly to your inbox.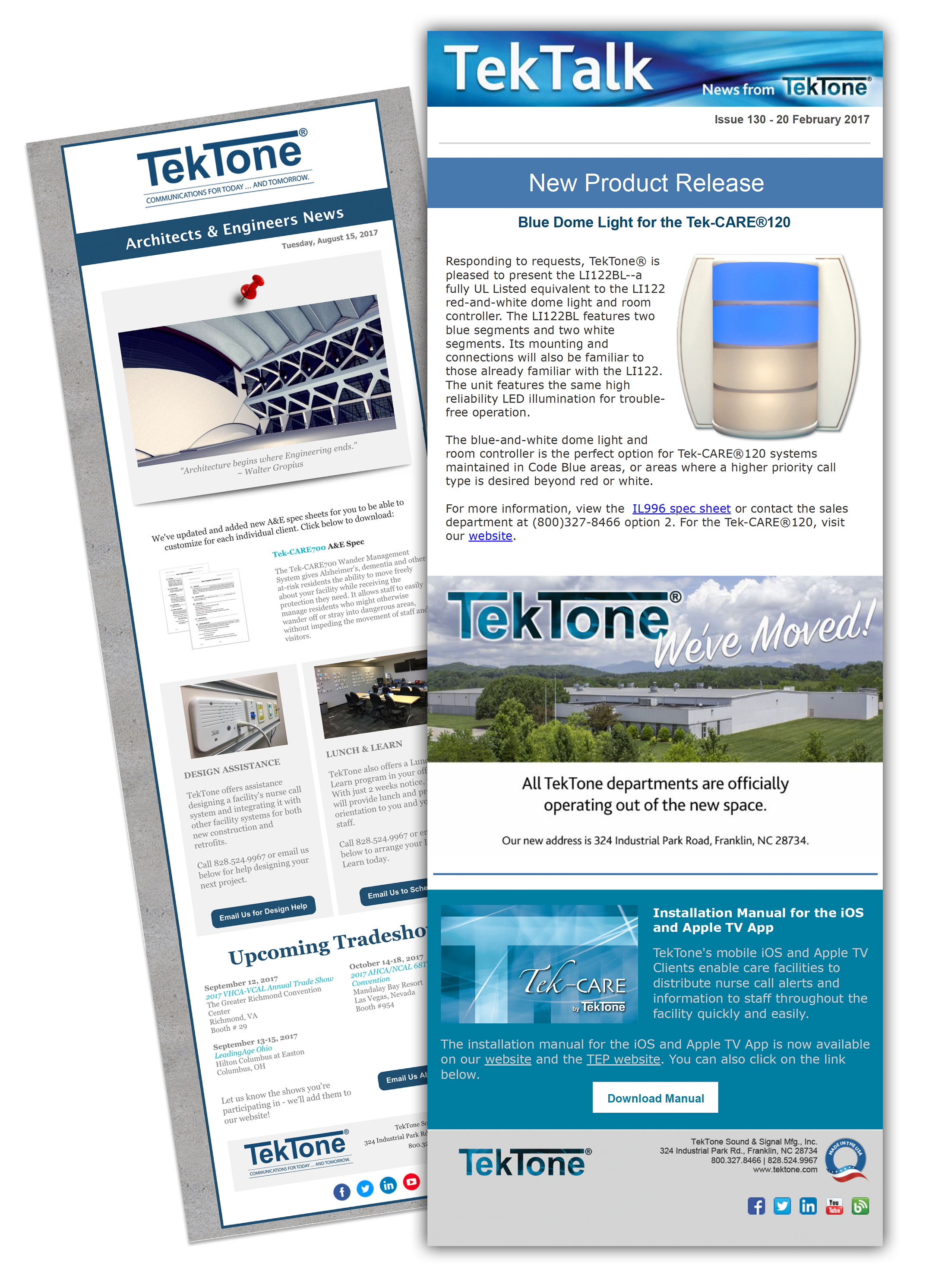 TekTalk
TekTalk is a quarterly newsletter that provides the latest updates for TekTone products and company news. Each newsletter contains important information and timely updates related to:
Product releases
Discontinuation Notices
Nurse Call Industry News
Updated Manuals
Updated Spec Sheets
Product Changes
Software Updates
Installation Changes
Tips and Fixes
Upcoming Trade Shows
New Marketing Tools
Updated Sales Tools
Training Classes
Case Studies
Success Stories
Tech Support Tools
Sales Information
Internal News
International Updates
News from the field
and other company news
By subscribing to TekTalk, you will also be first to receive urgent product updates and sales information, as well as notifications for upcoming closures at TekTone's headquarters. It is the perfect channel for customers, installers, TekTone users, healthcare facilities or anyone that is curious about what TekTone has to offer.
A & E News
TekTone's A & E News is designed with architects and engineers in mind. Six times per year the newsletter provides information on new products, spec sheets, submittal packages and A & E specifications. A & E specs are created to assist in specifying and designing TekTone systems for healthcare construction projects around the world. With each issue, there is also information provided about Lunch & Learn events, a free service TekTone provides to A & E firms wanting to learn more about TekTone products. A & E News can benefit architects, engineers, construction managers, interior designers, installers, customers and even facilities looking for system specifications.
TekTone eNewsletters are distributed worldwide from our headquarters in Franklin, NC. They are the primary communication tools for major announcements and changes. Stay up to date with TekTone and subscribe!
Privacy Policy
We do not sell, rent, or lease our subscription lists to third parties, and we will not provide your personal information to any third party individual, government agency, or company at any time unless compelled to do so by law.
We will use your e-mail address solely to provide timely information about TekTone!