Training
TekTone offers TEP Tek-CARE Product Training, Recertification Training for our TEP technicians, project engineers and project managers as well as non-TEP Training for all TekTone customers interested in installing and servicing Tek-CARE systems. 
There are several different resources for TekTone systems training. Before reviewing, please visit the TekTone YouTube page. There you will find a selection of training videos on a variety of TekTone systems, including reporting, wander management and the Tek-CARE500 wireless nurse call system.
TekTone offers training at our factory. All training classes conducted in our NC facility require a $250 non-refundable registration fee. While this fee is non-refundable, if it is necessary to reschedule a registration prior to 2 weeks before the beginning of class, the fee will be applied to the new registration. In the case of TEP Certification where a followup quiz and programming exercise must be completed for certification, registrants completing all requirements within the allotted time (usually 4 weeks after class ends) will earn a $250 credit on their next order. Maximum class size is 8 people, and attendees are encouraged to sign up at least 2 weeks in advance. Download the TekTone Product Training Welcome Letter for directions and lodging information.
We also offer regional training opportunities. These classes are held at various locations throughout the year, providing more convenient options for those not wishing to travel to Franklin, NC. Registration cost for regional classes is $1000 per person.
If you would like to train several technicians at once, bring our technical training to your facility. Download a PDF of our TEP Tek-CARE Product Line Training Requirements  or our Non-TEP Tek-CARE Product Training Requirements.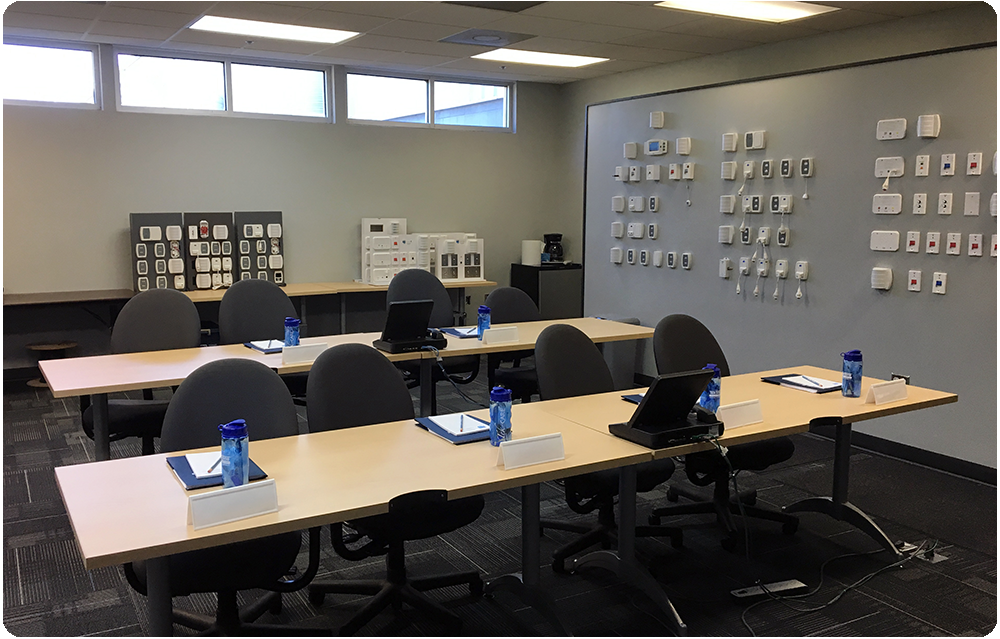 TRAINING SCHEDULE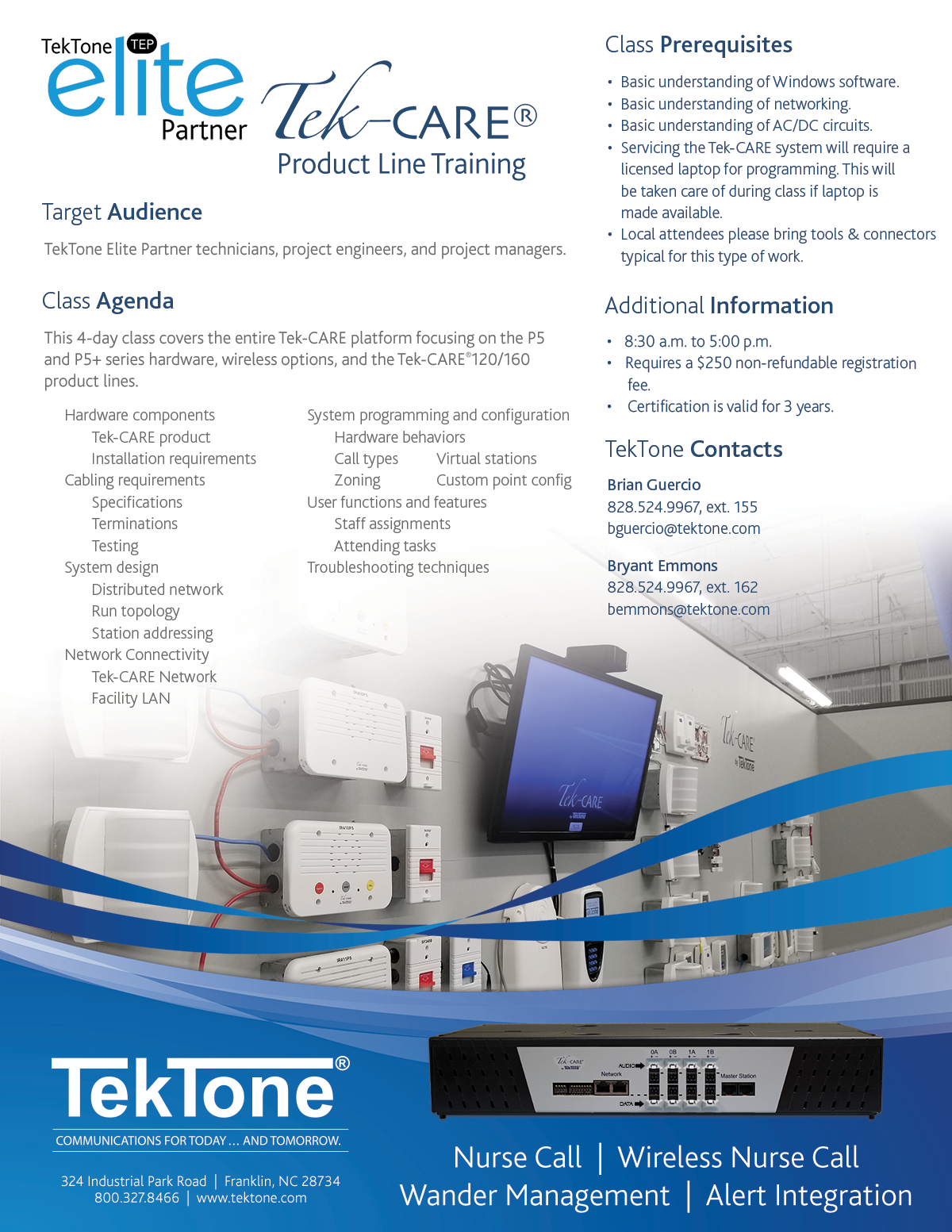 TEP Training Classes (Franklin, NC):
This class is intended for TekTone Elite Partner technicians, project engineers and project managers. This 4-day class will cover the entire Tek-CARE platform. After completing all exercises and tests, students will receive a certification valid for three years.
December 19-22, 2022
Jan 9-12
Jan 30-Feb 2
Feb 27-March 2
April 11-14
May 22-25
June 19-22
July 24-27
August 14-17
September 11-14
October 9-12
November 6-9
December 4-7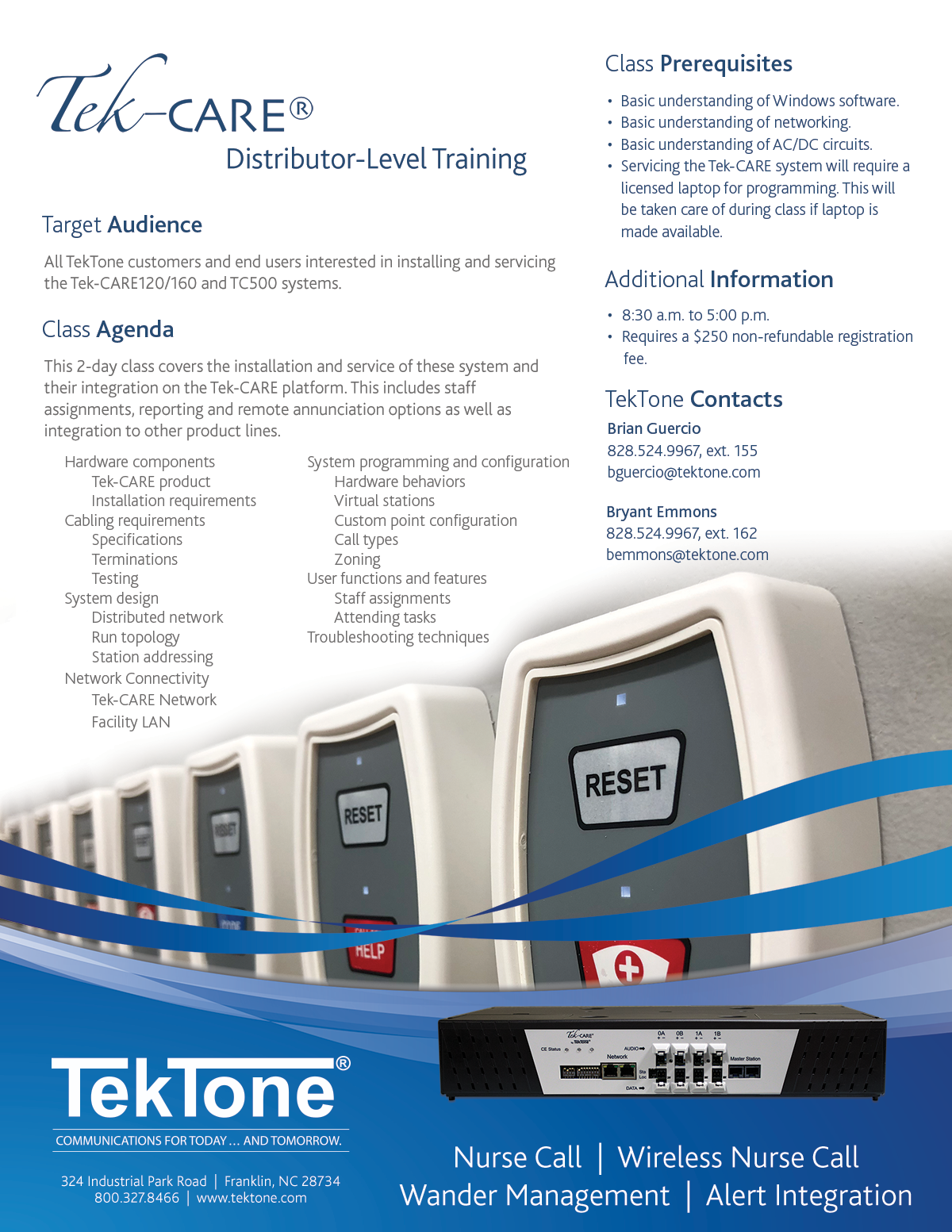 Distributor Training Classes (Franklin, NC):
This class is intended for all TekTone customers (technicians, project engineers and project managers). This 2-day class will cover the Tek-CARE120/160 and Tek-CARE500 nurse call systems.
Jan 23-24
April 24-25
July 10-11
August 28-29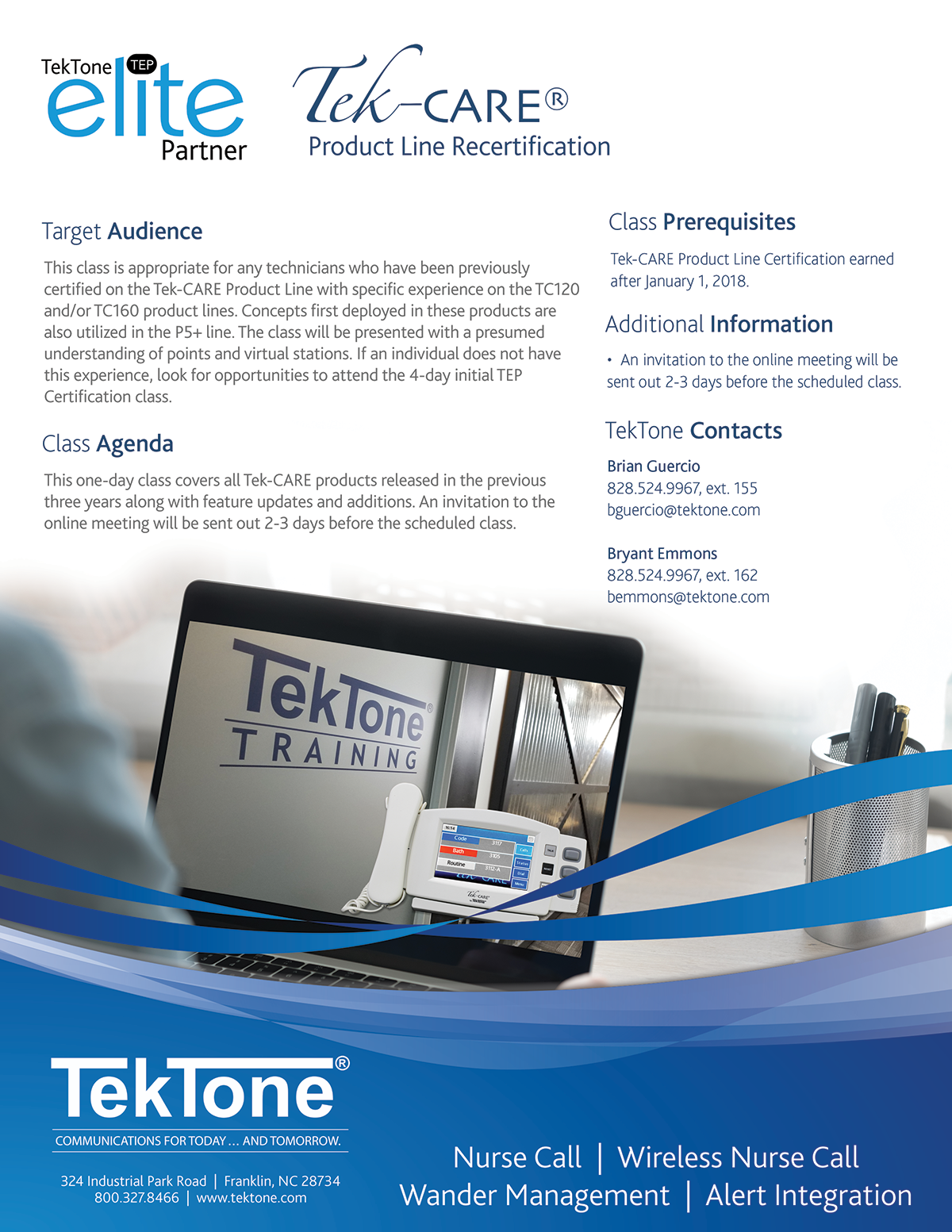 TEP Recertification Classes: (online via Zoom meetings)
This class is appropriate for any previously trained technicians with experience on the TC120 and/or TC160 product lines. Concepts first deployed in these products are also utilized in the P5+ line. The class will be presented with a presumed understanding of points and virtual stations. If an individual does not have this experience look for opportunities to attend the 4-day initial TEP Certification class.
Jan 5
Feb 16
March 8
TEP Conference May 9
August 8-9
September 26-27
To register for any of these classes, please visit https://training.tektone.com/. Each attendee will need to create their own user account for registration and testing. 
If you have any questions or problems with registration, please contact Training at 800.327.8466, ext. 155 or 162 or
training@tektone.com
.
In order to ensure the most effective training environment, a minimum class size is required. Any class with less than 3 people registered may be cancelled two weeks prior to start date.