Training
TekTone offers TEP Tek-CARE Product Training, Recertification Training for our TEP technicians, project engineers and project managers as well as non-TEP Training for all TekTone customers interested in installing and servicing Tek-CARE systems. We now offer regional training for TEPs and non-TEPs.
There are several different resources for TekTone systems training. Before reviewing onsite training requirements, please visit the TekTone YouTube page. There you will find a selection of training videos on a variety of TekTone systems, including reporting, wander management and the Tek-CARE500 wireless nurse call system.
TekTone offers training at our factory for no charge. You are responsible for your lodging, meals and transportation to Franklin, NC. Maximum class size is 8 people, and attendees are encouraged to sign up at least 2 weeks in advance. Download the TekTone Product Training Welcome Letter for directions and lodging information.
If you would like to train several technicians at once, bring our technical training to your facility. Download a PDF of our TEP Tek-CARE Product Line Training or our Non-TEP Tek-CARE Product Training.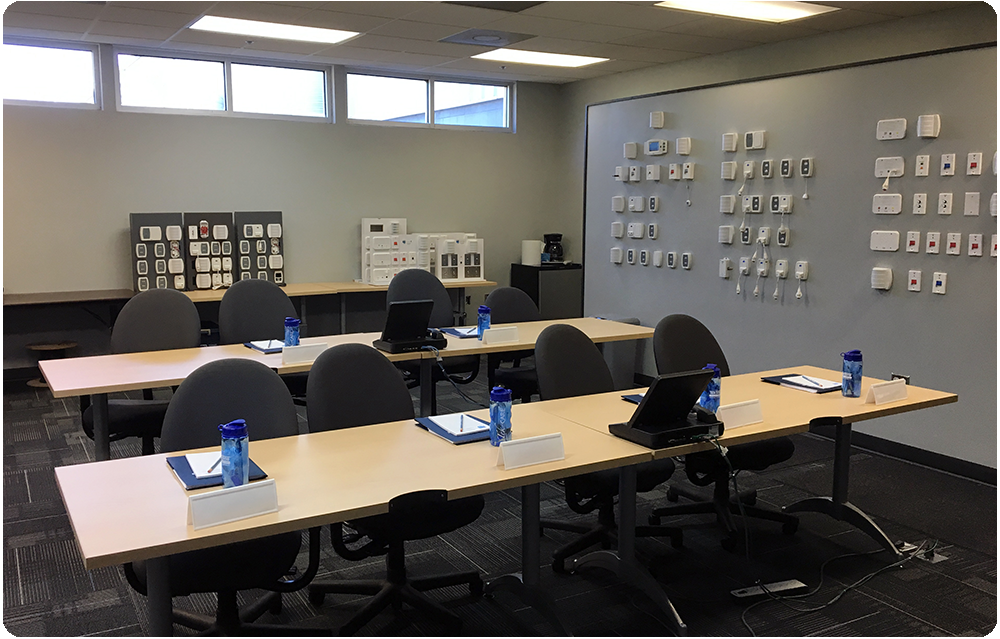 TRAINING NOTICE
VACCINATION IS REQUIRED AND MASKS WHILE IN CLASSROOM
FOR ALL TEKTONE TRAINING OPPORTUNITIES.
1/25/22
To Our Valued Partners,
As you know the health and safety concerns surrounding the COVID pandemic have hampered our ability to provide certification training for your technicians. Please be advised that recertification of previously certified technicians is now available as a one-day online class at no cost.
Go to https://training.tektone.com for schedule and registration information. Times for Tuesday classes will be 12:30-5:30 EST and Thursday classes will be 9:00-3:00 EST. We look forward to seeing you there.
In order to maintain social distancing and minimize travel, we will also be hosting regional classes over the next few months. We have made arrangements for the following locations and dates (check back for new dates/locations):
Columbus, OH—Feb 8-11
Homewood Suites by Hilton Columbus- OSU (614) 488-1500
1576 W. Lane Ave., Columbus, OH
Negotiated rate; $129/night
Columbus, OH—Feb 14-17
Homewood Suites by Hilton Columbus- OSU (614) 488-1500
1576 W. Lane Ave., Columbus, OH
Negotiated rate; $129/night
Registration fee is $1,000 per person for all classes.
Class time 8:30-4:30
In addition, we have added two recertification classes per month for those TEPs who have upcoming expiration on their certifications. All recertification classes are online and will last 3-6 hours. Classes available are as follows:
February 22, 12:30
February 24, 9:00
March 22, 12:30
March 24, 9:00
April 19, 12:30
April 21, 9:00
May 17, 12:30
May 19, 9:00
June 14, 12:30
June 16, 9:00
To register please visit https://training.tektone.com/ Each attendee will need to create their own user account for registration and testing.
If you have any questions or problems with registration, please contact Training at 800.327.8466, ext. 155 or 162 or
training@tektone.com
.
In order to ensure the most effective training environment, a minimum class size is required. Any class with less than 3 people registered may be cancelled two weeks prior to start date.
For more information on each training, please click below:
TEP Tek-CARE Product Line Training Certification
TEP Tek-CARE Product Line Recertification
Non-TEP Tek-CARE Product Line Training Certification
Non-TEP Regional Training