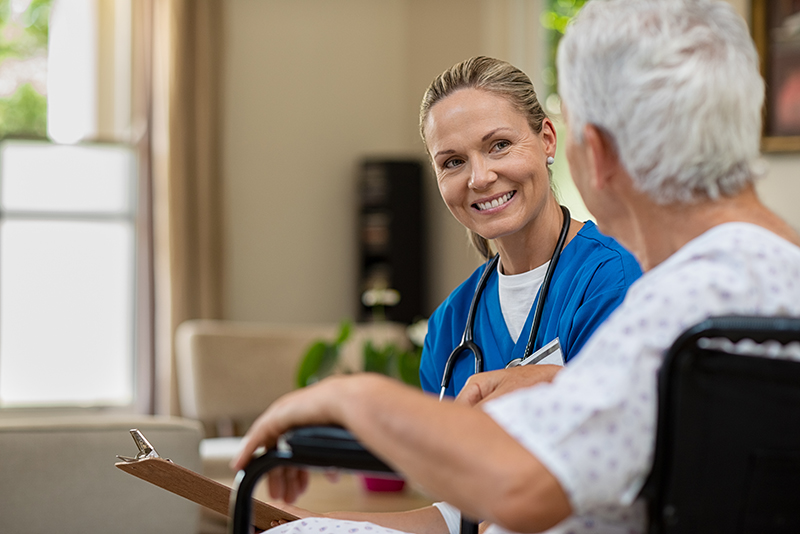 A skilled nursing facility (nursing home, convalescent home, care home or rest home) provides a place of residence for those who require continuous nursing attention. Services available in skilled nursing facilities include assistance of nurses, nursing aides and assistants; physical, occupational and speech therapists; social workers, recreational assistants; and living space. In some instances, residents may reside in skilled nursing facilities to receive rehabilitation or other therapy following an illness or accident.
Skilled nursing facilities require a complete UL® 1069 Listed Tek-CARE nurse call system with call stations, pull-cord stations, staff assist stations, and corridor lights. Besides being a requirement, Tek-CARE nurse call implementation in skilled nursing environments can have benefits such as efficiency gains—allowing your facility to do more with less. A facility can market its world-class nurse call system and its features to potential residents and their families. System reporting capabilities provide resident family members with peace of mind, knowing their loved ones are receiving care in an exemplary period of time.
TekTone offers various levels of Tek-CARE nurse call systems—from a basic direct-select audible-visual system, to the latest microprocessor-based audio/visual system. All hardwired Tek-CARE nurse call systems are UL® 1069 Listed and approved for skilled nursing facilities, hospitals and medical centers, and are scalable to meet a facility's needs by integrating with pocket pagers, wireless phones, and management report software.