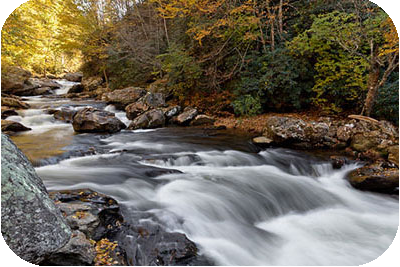 TekTone seeks talented, enthusiastic, team players with a positive attitude to help us grow our business and strengthen our community.
Quality of Life
TekTone world headquarters is located in the beautiful mountains of western North Carolina where residents enjoy an unsurpassed quality of life. The 517 square miles of Macon County, NC include the towns of Franklin (the county seat) and Highlands, plus numerous smaller communities. Almost one-half of the county is comprised of the Nantahala National Forest, the largest in North Carolina.
While the climate is mild, there are four distinct seasons. The area boasts plenty of woodlands, beautiful streams, waterfalls, mountains, hills and valleys. Macon County's "green factor" is unparalleled in the region. We have a variety of outdoor activities, such as whitewater rafting, fishing, hiking on the Appalachian and Bartram Trails, boating and skiing, and we are only 40 minutes from the Great Smoky Mountains National Park.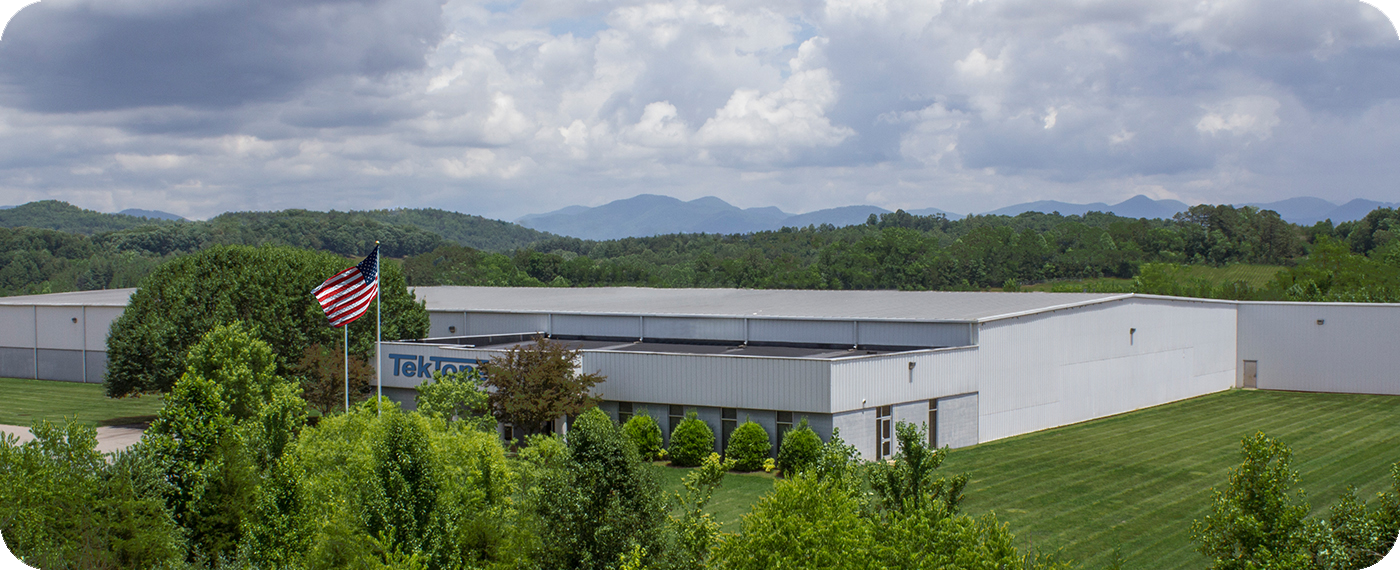 The TekTone campus is located in a beautiful rural area, but is by no means isolated. We are just one hour from Asheville, NC and just over two hours from several major business centers, including Atlanta, GA, Greenville/Spartanburg, SC, and Knoxville, TN.
Our Culture
TekTone is a family-owned business, and we consider our employees to truly be part of our family, working towards a common goal. We strive to continually improve our processes by actively encouraging and recognizing ideas from all employees.
TekTone products are designed and built in our FDA-registered, state-of-the-art manufacturing facility. Operating for more than 45 years, we provide our customer base around the world with world-class support, and we have a strong commitment to product design. All healthcare products are designed, manufactured and tested in the USA, while all software is written and owned by TekTone. We have our own in-house engineering department that is constantly working to use new innovative technology to improve our products, and a primary focus organization-wide is Continuous Improvement of service, quality, and processes.
The people are friendly and organize year-round activities, including festivals and arts & crafts events. There are countless trails for hiking, including the Little Tennessee River Greenway, and the views are breathtaking. A paradise for those that love the outdoors, Franklin is designated as an Appalachian Trail Community. Franklin is home to approximately 3,600 citizens, but the population nearly doubles during the spring, summer and fall seasons due to our temperate climate and beautiful scenery. With a healthy tourism industry and lots of local people taking an active role in the community, Franklin offers endless opportunities for the entire family.
TekTone Sound & Signal Mfg., Inc., located in the beautiful mountains of Western North Carolina, is searching for a full-time DevOps Manager for our organization.  We are looking for someone who has a strong understanding and experience with AWS, Gitlab CI/CD, PHP Laravel Development experience, strong MYSQL and MSSQL experience, Linux and Mac primary desktop experience and the ability to operate in an agile environment.  Supervisory experience a must.
Qualified applicants will have a Bachelor of science in Computer Science, related field or equivalent experience, a minimum of 3 years' experience as DevOps Engineer working with currently used technological products.  Master's degree in computer science, or equivalent experience preferred.
This is a full-time exempt position with benefits.  Four-day work week and flexible schedule available.  Benefits include health insurance, dental insurance, 3 weeks' vacation increasing to 5 weeks at year 5, 401K/Profit Sharing and more. 
Interested applicants should send a resume to careers@tektone.com or apply via the TekTone.com website.  For more information, contact Human Resources at 828.524.9967 x 119.

Click on the Apply Now button to submit a general application for employment at TekTone.
If you would like to download the application and mail it in, please click here. Mail to: 324 Industrial Park Road, Franklin, NC 28734