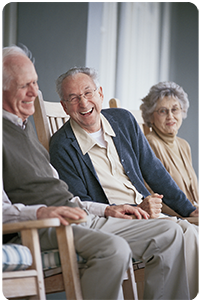 Assisted living / independent living facilities usually have a campus-wide call system so a resident can notify caregivers by initiating a call from a personal pendant or emergency button press/pull. The systems specified for these types of facilities are usually referred to as emergency call systems or personal emergency response systems. Call system requirements in assisted/independent living vary, but may be mandatory in some states. Assisted living facilities may prefer a combination of Tek-CARE wireless and wired technology, with pull-cord stations, call buttons and wireless pendants to ensure staff members are notified efficiently and quickly.
THE PERFECT SOLUTION
Wireless and wired Tek-CARE life safety systems are a perfect solution for assisted/independent living facilities. With fixed or mobile wireless devices, the Tek-CARE500 Wireless Nurse Call / Emergency Call System provides residents with the safety, independence and peace of mind they deserve. The wired Tek-CARE400 Nurse Call System with touchscreen master and crystal-clear audio provides residents in skilled nursing areas with the additional comfort of two-way communication. TekTone is also the first company to offer a wireless system that fully integrates with a wired audio-based system.
The Tek-ALERT Integration Manager allows a facility to seamlessly integrate calls and activities from all life safety systems and route those calls to the appropriate caregiver. By integrating hard-wired nurse call, wireless nurse call / emergency call, fire alarm, security and access control systems, Tek-ALERT Integration Manager provides Assisted/Independent Living facilities a single point to manage staffing, patient safety and maintenance.