Tek-ENTRY Vandal-Resistant Apartment Entry Systems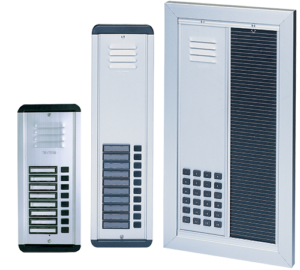 AM642/08, AM642/10, CM492/024
Entrance Panels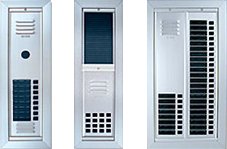 CM491/016, AM492/08
Entrance Panels
TekTone's Tek-ENTRY vandal resistant panels are perfectly suited for outdoor enclosures or areas that are accessed by the general public.
Custom vandal-resistant apartment entrance panels are constructed of extruded aluminum with a brushed anodized finish, and a weather-resistant Mylar® speaker protected by a louvered grill and perforated aluminum mesh.
Panels may be configured to accommodate 3-, 4- or 5-wire speaker-type apartment stations, or handset-type apartment stations. Choose an alphabetical directory panel protected by a clear Lexan® lens, or individual name holders beside each button.
Other entrance panel options include surface or flush mount, postal release, and engraved buttons.
Then choose a custom-sized 4-wire stainless steel apartment station, or a handset-type apartment station. Or select one of our 3-, 4- or 5-wire speaker-type ABS plastic apartment stations in flush or surface mount.
 




IR100E series
3-, 4- or 5-Wire
Apartment Station

IR200E series
3-, 4- or 5-Wire


Apartment Station