Tek-CARE400 P5+ Nurse Call System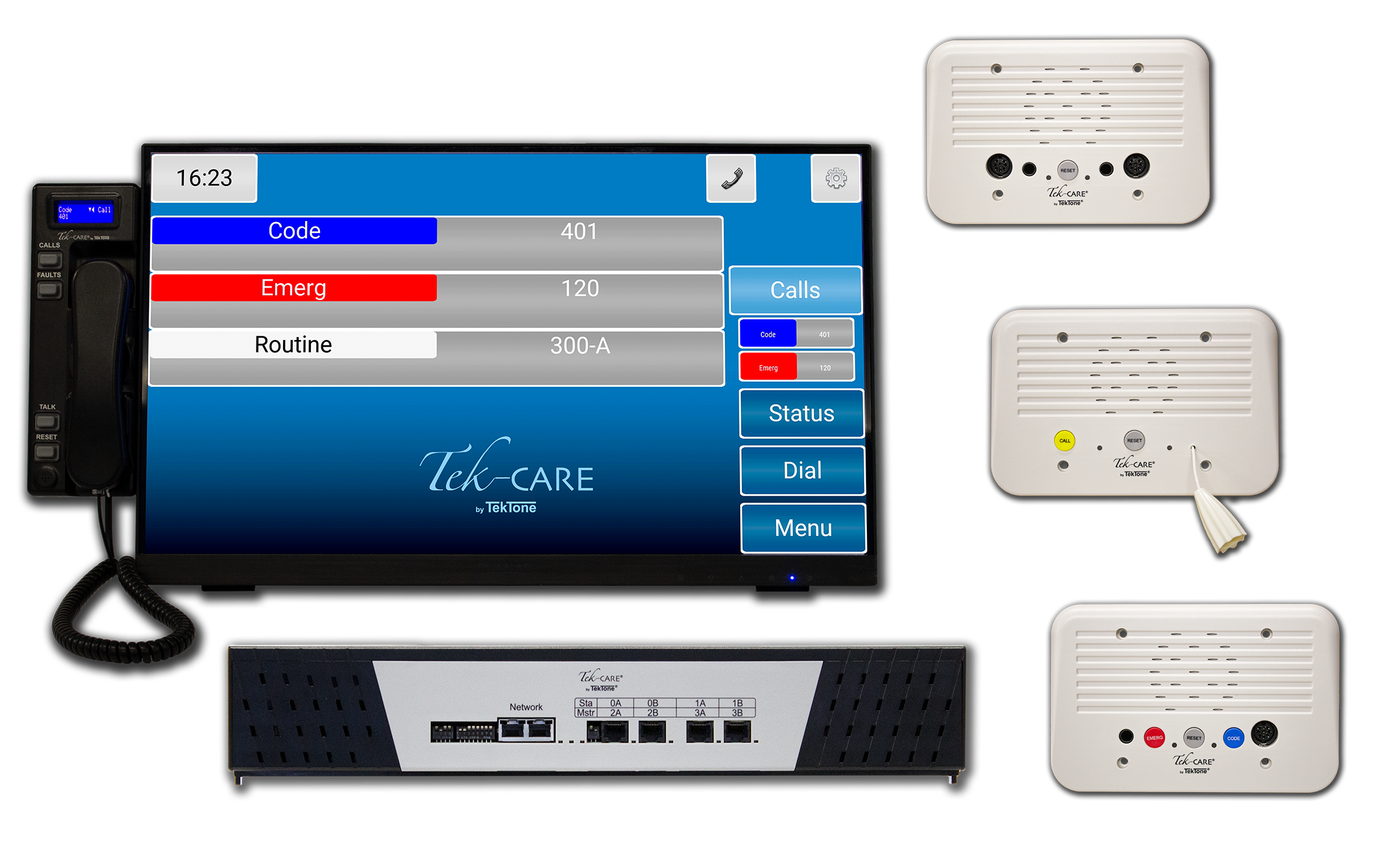 The Tek-CARE400 P5+ is the modern iteration of TekTone's flagship nurse call system. Featuring modern aesthetics and flexible options, the system can be designed to fit facilities in every healthcare industry. The system has a clean contemporary look, and is designed to be both staff- and patient-friendly.
The system features:
Touchscreen masters stations
Map view for identifying call locations
Budget-friendly master station options
Customizable station buttons
Check-in station
Tek-CARE Staff App with audio
Reporting
Backwards compatibility
Full-duplex audio
Wireless telephone integration
ADT interface
NC404TS with List and Map Views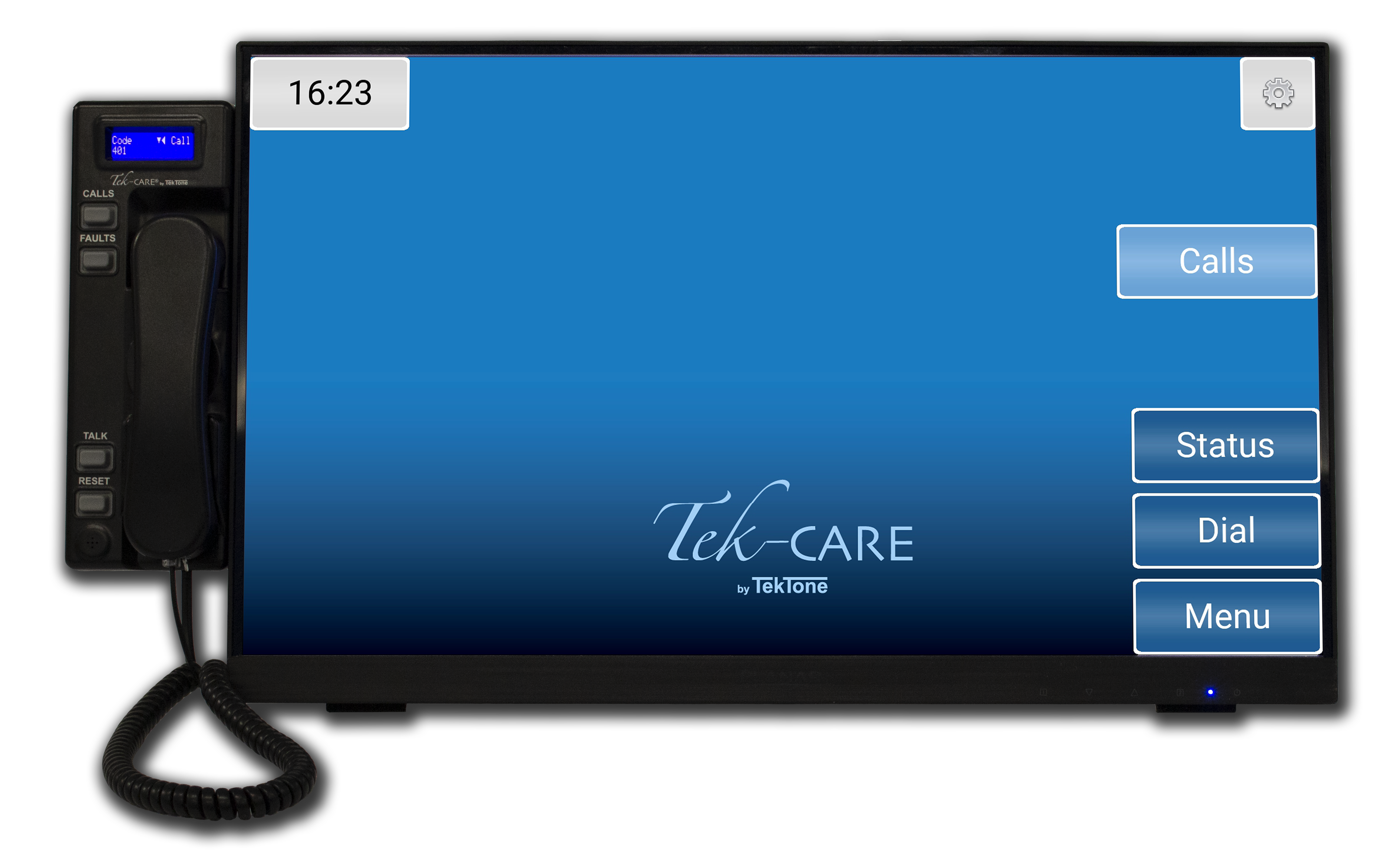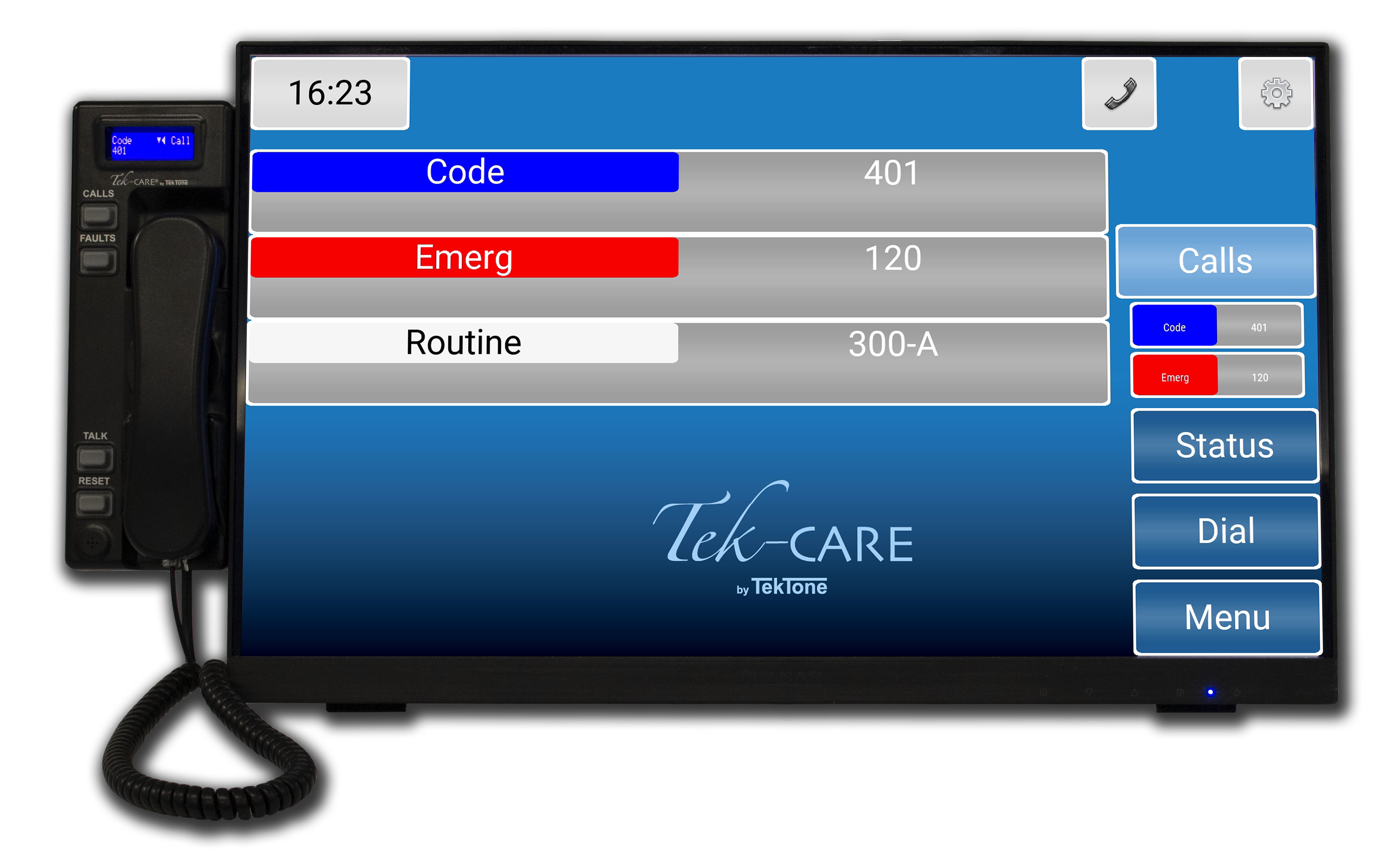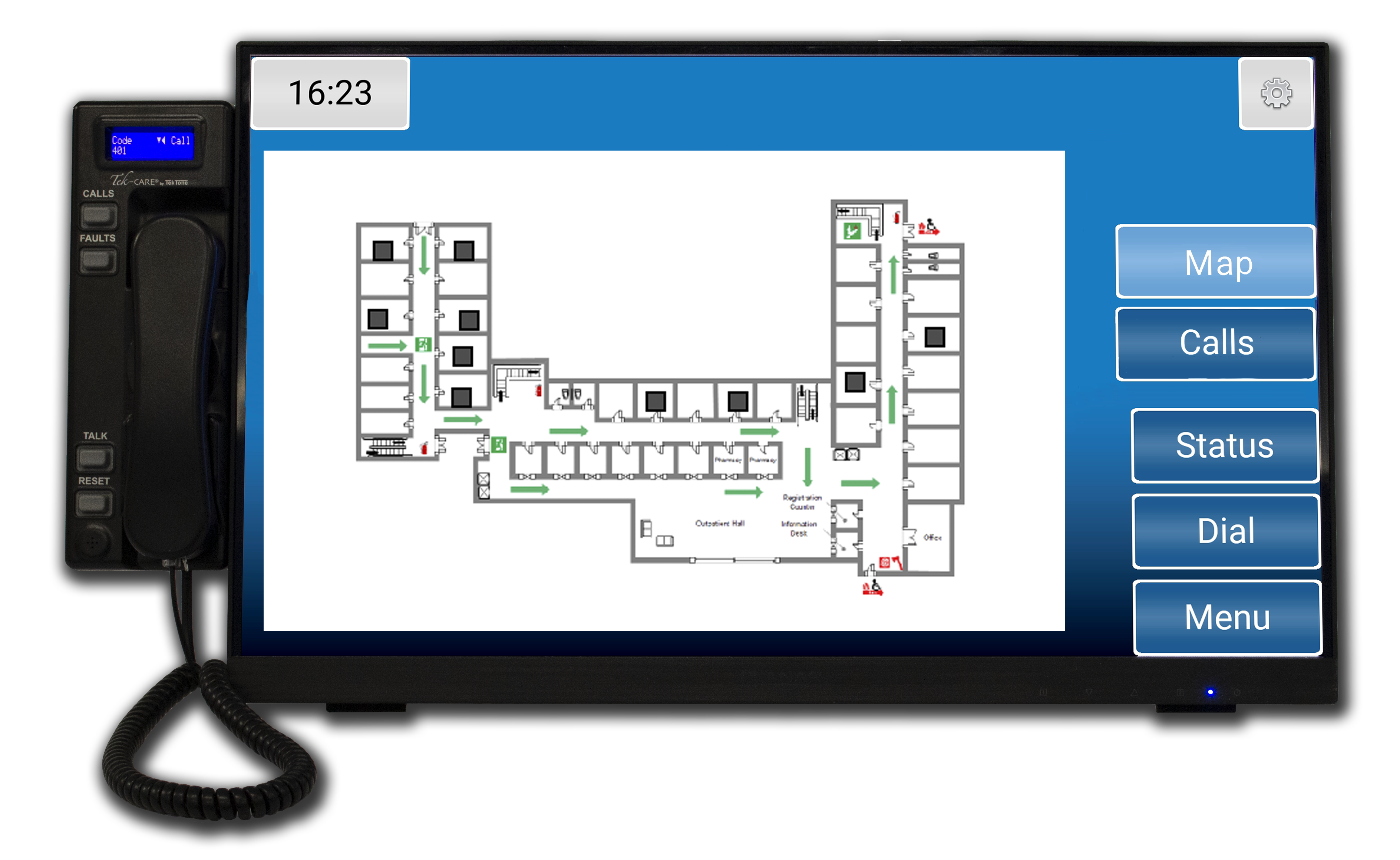 The Tek-CARE400 P5+ offers two versatile, touchscreen master station options in the NC404TS and the NC415AV, allowing you to decide which option best fits your needs and your budget. Whether sleek and compact, or large with multiple call viewing options, the Tek-CARE400 P5+ provides master station options for your needs. Both masters utilize a handset option for two-way audio communication and provide touchscreen capabilities.
The P5+ addressable stations allow residents to open a voice channel between their room and the nurses station, allowing staff to accurately assess the time needed to respond. Stations provide a modern aesthetic and utilize customizable buttons on both patient and peripheral stations. The addressable stations and peripherals are all completely supervised, adding reassurance for maintenance and administration staff alike.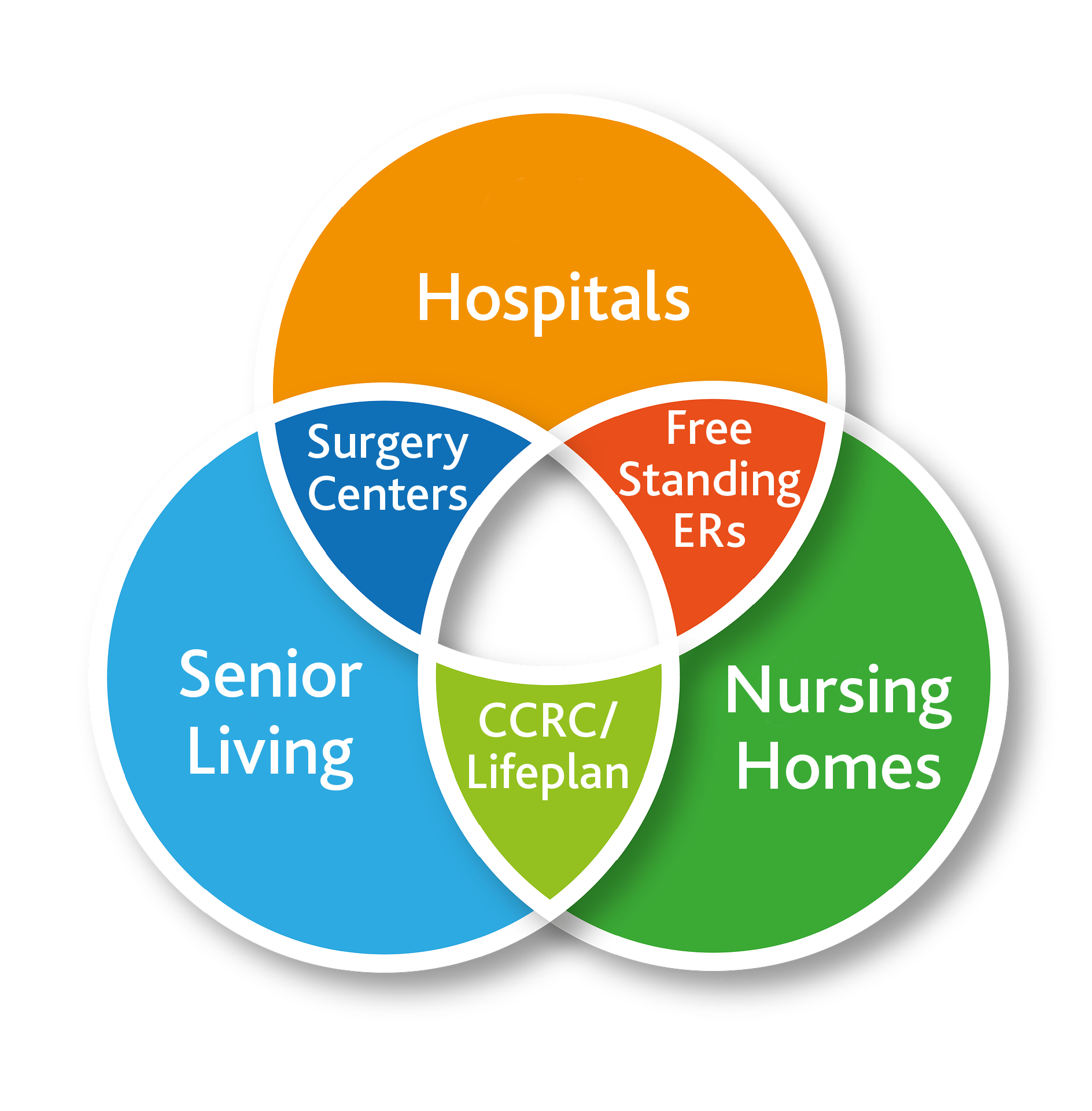 Using the Tek-CARE Appliance Server with the Tek-CARE Staff App integration, calls can also be answered via a networked mobile device during times when a staff member may be responding to another call, making rounds or occupied with another task. Adding the Tek-CARE Appliance Server also allows for the addition of reporting, third party integration, and other software interfaces, such as ADT. An integration with the Tek-CARE platform provides clinical staff with critical communications means and a pathway to more effectively focus their valuable time and energy on patient care. The Tek-CARE platform is a helpful reporting and analytics resource, allowing administration to access reports on workflow, rounding effectiveness, facility events, staffing, request detail and more.
The Tek-CARE400 P5+ nurse call system is UL® 1069 and UL® 2560 Listed and cUL® Listed to CSA C22.2 No. 205.
Tek-CARE400 P5+ is sold through regional TekTone Elite Partners.
To request more information, call our Sales Department at 800.327.8466, option 2, or use our Contact Us form.
MOBILITY
Calls can be received and answered from any networked mobile device to ensure staff always knows when and where help is needed, even when juggling multiple tasks.
EASE-OF-USE
The Tek-CARE platform is simple to use, with touchscreen options and a user-friendly interface. On-duty staff will find interacting with the system a breeze.  
COMMUNICATION
The TC400 P5+ is designed to keep communication rolling. Full duplex audio, voice-enabled apps and staff messaging can make sure that everyone is on the same page.