TekTone Elite Partner (TEP) 2023 Annual Conference
Join us and your fellow TekTone Elite Partners for our TekTone Elite Partner (TEP) Annual Conference, which will be held in Chattanooga, TN on May 7-9, 2023. The 2023 TEP conference will include networking, training, speakers, seminars, new product demonstrations, and future product plans! We'll kick off for an evening reception at 5:30 p.m. on Sunday, May 7 and adjourn by 5 p.m. on Tuesday, May 9. 
Limited training will be offered at the conferece. There will be no fee/cost for this training.
*The Dinner & Team Building activity you attend will be stated on your name badge and color coded by activity. Please attend the activity you are registered for. Unfortunately, both activities are COMPLETELY booked and we are unable to accommodate any changes. 
Sweet & Savory Classroom – Red
Dinner Train – Blue
If you did not register for an activity, your name badge will be in black.
HOTEL INFORMATION
The Chattanoogan Hotel, Curio Collection by Hilton
1201 Broad Street
Chattanooga, TN 37402
+1 423.756.3400
We're sorry. The 2023 TekTone Elite Partner Conference housing block is now closed. For changes or cancellations, please contact the hotel directly at 423.756.3400.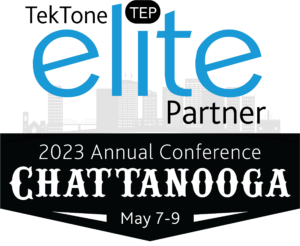 Chattanooga is one of the most revitalized cities in America. The Scenic City offers something for everyone! The wide range of attractions, restaurants, and accommodation choices make planning travel for a group a breeze….