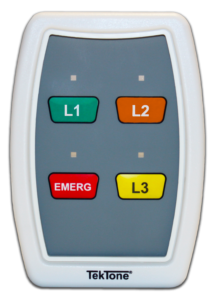 The SF124 Staff Peripheral Station adds push-button staff presence indication to the Tek-CARE400 P5+ Nurse Call System, along with staff Reset and Staff Emergency buttons if so configured. The station includes inserts for for L1, L2, L3 and EMERG and each button corresponds to a different color display on the associated dome light as programmed. There are four selectable button configurations providing other options such as CODE and Room RESET.
With the SF124, staff visits can be tracked and non-emergency staff requests can be placed (i.e. cleaning) at room level, allowing your community to function more efficiently.
For more information, please view the spec sheet or contact the sales department at 800.327.8366, option 2.