Newly released NC365B offers plug-and-play performance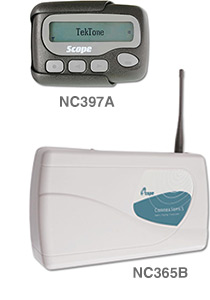 TekTone® is pleased to release the new NC365B Paging Transmitter, which replaces the NC369 Paging Transmitter. This unit adds considerable setup ease—including being pre-programmed for use with TekTone® systems for simplified plug-and-play setup. The NC365B receives alphanumeric messages, including call type, location, priority, and patient call information and transmits the information directly to NC397A Pagers.
Specifications and features include:
Directly supports the Tek-CARE®NC300II, Tek-CARE®400 P5, Tek-CARE®500, and Tek-ALERT® systems.
Supports the Tek-CARE® NC110, NC150 and NC200 systems when used with the NC377 Voltage Interface.
Receives alphanumeric messages and patient call information via serial interface from the nurse call or emergency call system and transmits that information directly to pagers.
Transmission strength of 2 Watts.
Includes ¼-wave BNC-terminated antenna to provide range of up to one mile under ideal conditions.
Use with the new NC397A Pagers. (Existing NC399P Pagers may be easily reprogrammed in the field to receive 1200 baud transmissions from the NC365B Paging Transmitter.)
For more information, download specification sheet IL670, or call our Sales Department at (800) 327-8466 option 2.
US List price for the NC365B Paging Transmitter is $3939.00 ($4,215.00 as of 4/1/15). US List price for the NC397A Pager is $389.00 ($416.25 as of 4/1/15).