The Tek-CARE160 is a modern and affordable nurse call system that is easy to install, use, and maintain. Featuring customizable peripheral devices, sleek, touchscreen master stations and high-quality two-way voice communication, the Tek-CARE160 is designed to meet the needs of facilities across the entire healthcare spectrum.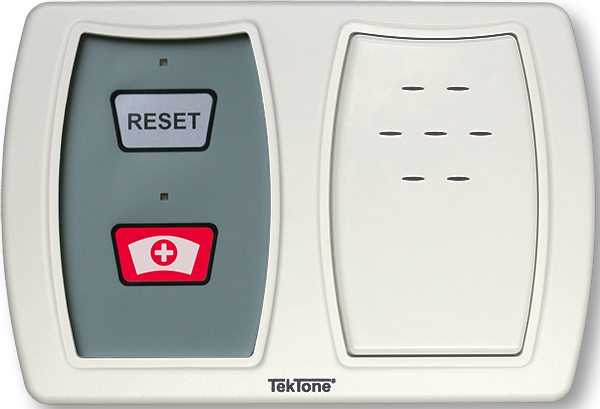 Available options on the Tek-CARE160 include:
Sleek touchscreen master station with optional handset
Customizable 2-button station
Patient station with 1/4″ call cord jack
Speaker station that can be combined with patient or 2-button station for customized options
Red and white or blue and white LED dome lights
Duty station with toning speaker
Integration with reporting, mobile apps, other Tek-CARE nurse call systems and third party systems
The most prominent new feature of the Tek-CARE160 is the NC415A Master Station that allows for two-way voice communication between the nurses station and resident room. Combined with the IR160 speaker station and either the patient station or 2-button station, staff can easily assess the needs of their residents without leaving the nurses station, saving time and making it easier to assist the resident with their needs.
The Tek-CARE160 system is easily installed with only 4 wires, making it an excellent fit for both new installations and retrofit. The system is also easily expandable and is easily integrated with other Tek-CARE systems such as the Tek-CARE120, Tek-CARE400P5 and even the Tek-CARE500 Wireless Nurse Call System.
To fully utilize the capabilities of the system, it can be combined with the Tek-CARE Appliance Server for value added features such as reporting, email output, Tek-CARE App integration and integration with third party systems such as security and fire alarm.
For more information about the Tek-CARE160, please contact the sales department at 800.327.8466, Option 2, fill out a contact form, or take a look at the Tek-CARE160 Color Brochure.