TekTone Sound & Signal Mfg. Inc. is inviting visitors to explore its new website. The new website has been designed to provide the ultimate user-friendly experience with improved navigation and functionality throughout, allowing customers to access detailed product information.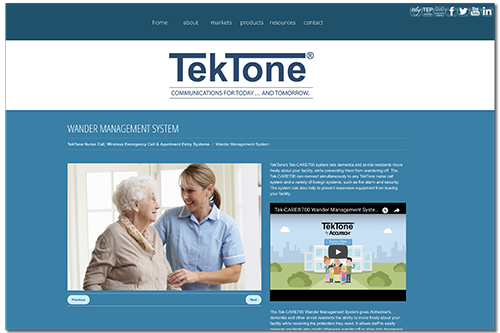 The site includes extensive product information to help customers understand TekTone's complete range of healthcare communications systems. Technical data, videos and application case studies work together to provide a detailed overview of TekTone's capabilities across a wide range of sectors, including hospital, surgery center, assisted/independent living, skilled nursing, retirement community, prison/psychiatric and residential. Created with the user experience firmly in mind, the website has been designed using the latest technology so the site is compatible with today's browsers and mobile devices.
Not only will you notice a huge visual impact, we have made design and functionality changes. Below are some additional features we have added to the new website:
Multilingual Website

We have expanded our global reach. Readers will now be able to select from English or Spanish with a click of the mouse. Once selected the entire website will be translated within seconds.

Interactive Where to Buy map
Improved Contact Form
eNewsletter Signup
Live Chat Option
Online employment application
BLOG site integration
Enhanced Navigation
The new website means that customers can now benefit from richer online content that is easier to navigate and share with others, assisting the specification process. This is a result of talking with customers and gaining valuable feedback. Furthermore, the new website allows users to share products and pages that interest them with others across Facebook, Twitter, and LinkedIn.
Visit the new website and give us your feedback by posting a comment on our Facebook page.
About TekTone
For over 40 years, TekTone® has designed and manufactured UL® Listed Tek-CARE® nurse call, wireless nurse/emergency call, wander management, Tek-SAFE® area of rescue assistance systems, and Tek-ALERT® integration systems. TekTone® products are designed and built in our FDA-registered, state-of-the-art manufacturing facility located in North Carolina – plus a network of distributors and representatives that stretches worldwide.  Learn more by visiting www.tektone.com.