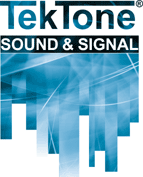 New features include a markets section identifying specific facility types and which products fit into those facilities. An expanded resources section and partner log-in area gives customers quick access to product literature, inventory levels, shipping information and support material.
TekTone® is also proud to unveil an entirely new product to its diverse portfolio, the Tek-ALERT™.
A social networking area allows direct connection to TekTone® via Facebook, LinkedIn, Tek-Blog, and Twitter.
Check out the new site at www.tektone.com