Prevents damage to call cords, pillow speakers and room stations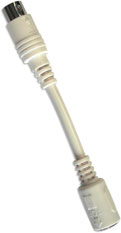 The SF401EX Strain Relief Cable is a 6″ extender for all DIN-style pillow speakers and call cords. Facilities will save money by using this protective device. The SF401EX cable is plugged into a TekTone® call cord or pillow speaker and then into a room station-providing break-away action when stressed.
The SF401EX cable is a durable polyvinyl covered cord with molded ends. It has one male DIN connector and one female DIN connector, and generates a cord-out call when disconnected at either end. The SF401EX is UL® 1069 Listed, and can be used with the Tek-CARE®NC300II and Tek-CARE®400 Nurse Call Systems.
US list price of the SF401EX is $11. For more information, download specification sheet IL886 from our website.