The Tek-CARE®400 P5 adds many improvements, along with a clean, contemporary look.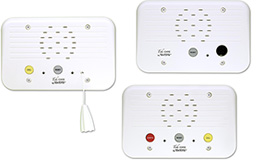 The Tek-CARE®400 P5 system uses the same master stations as our Tek-CARE®400 system, and includes all the same great integration features, including reporting, wireless phones, pocket paging, ADT interface, and Versus® tracking. Plus, the new P5 system can also function as a resident check-in system.
P5 patient stations include one or two DIN jacks. Staff, duty and multipurpose stations are also available, along with a resident pull-cord station and a resident check-in station with pull-cord and call button.

The new, stylish P5 corridor lights have four multicolor LEDs that can be individually programmed to any RGB color-and since they use LEDs, there are no bulbs to replace.
The Tek-CARE®400 P5 system's NC401TS master has a 10″ color LCD touchscreen, and can display calls from the entire facility. The master includes a built-in keyboard with water-resistant rubber overlay for creating custom pages, and a membrane keypad for the most commonly used functions. Its small footprint increases the space available at the nurses' station.
For more information, contact our sales staff at (800) 327-8466 option 3, or visit www.tektone.com/products/nurse-call-systems/tek-care400/.