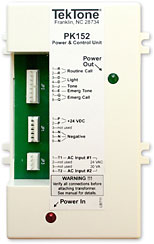 TekTone®'s newly released PK152 provides power and control circuits to operate NC110, NC200 and NC150 nurse call systems and the Tek-SAFE® area of rescue assistance system. The PK152 unit contains the circuitry necessary to detect the presence of normal and emergency calls, and to generate audible and visual control signals while providing steady or intermittent voltages to operate visual signaling devices.
TekTone®'s PK152 is a drop-in replacement for the PK151A/N, and adds these features:
Plug-in connectors for all wiring.
Status indicators for both input and output power.
The PK152 lists for $225.50. For more information, see specification sheet IL367, or contact our sales staff at (800) 327-8466 option 3.