TekTone® remote receiver adds dome light annunciation
to the Tek-CARE®500 Wireless Emergency Call System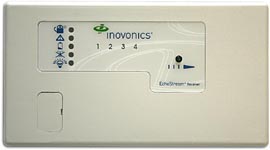 The NC506ES Remote Receiver allows external dome lights and dialers to be connected to our Tek-CARE®500 Wireless Emergency Call System, providing an alternate annunciation path. The remote receiver features 4 individual dry contact outputs, each of which can be programmed to be triggered by a single transmitter. The outputs are directly triggered by their associated transmitters, and are not dependent on the Tek-CARE®500's master station computer.
Other features include:
Includes built-in tamper detection outputs that can be connected to an external alarm system.
Clean appearance for interior mounting.
Functions independently of the Tek-CARE®500 master station computer.
LEDs display current status of transmissions.
Hidden wiring access.
Screw terminal connections.
4 dry-contact outputs.
Supports up to 4 transmitters.
US list price of the NC506ES Remote Receiver is $280.00. For more information, call our Sales Department at (800) 327-8466 and ask for specification sheet IL875, or download it from our online literature index at www.tektone.com.