Hot on the heels of the release of the next generation of the Tek-CARE platform, TekTone® is excited to announce the Tek-CARE400 P5+ Nurse Call System. The Tek-CARE400 P5+ is TekTone's new and improved flagship system, encompassing the recently released NC455CE module, both touchscreen master stations and the new IR42X-series addressable stations and their additional components. The Tek-CARE400 P5+ is more than the sum of its parts; it is an entirely new way to present the Tek-CARE platform.
Addressable Stations
The new addressable stations provide exciting new features and a new look for the classic Tek-CARE brand.
Single and Dual Patient Stations with Peripherals
The IR421P5 single and IR422P5 dual patient stations each provide a DIN jack for call cords and pillow speakers, as well as a ¼" jack for other inputs. The single patient station also provides 2 customizable buttons for unique and programmable call types. Both stations utilize the SF123 peripheral stations, which are fully supervised, allowing for even more call type customization.
Staff and Duty Stations
The IR420P5 staff station and IR425P5 duty station both provide methods for staff to place calls while away from the nurses' station. The staff station features a "Call" and "Emergency" button, while duty station features a "Call" button, along with 4 LED indicator lights to announce the priority of calls placed in its zone.
Other Stations
The resident station with check-in allows facilities to choose a patient station with a pull cord, as well as provide an option for a resident check-in feature.
The multipurpose station provides support for switches, contact closures and other call originating devices on the Tek-CARE400 P5+ system.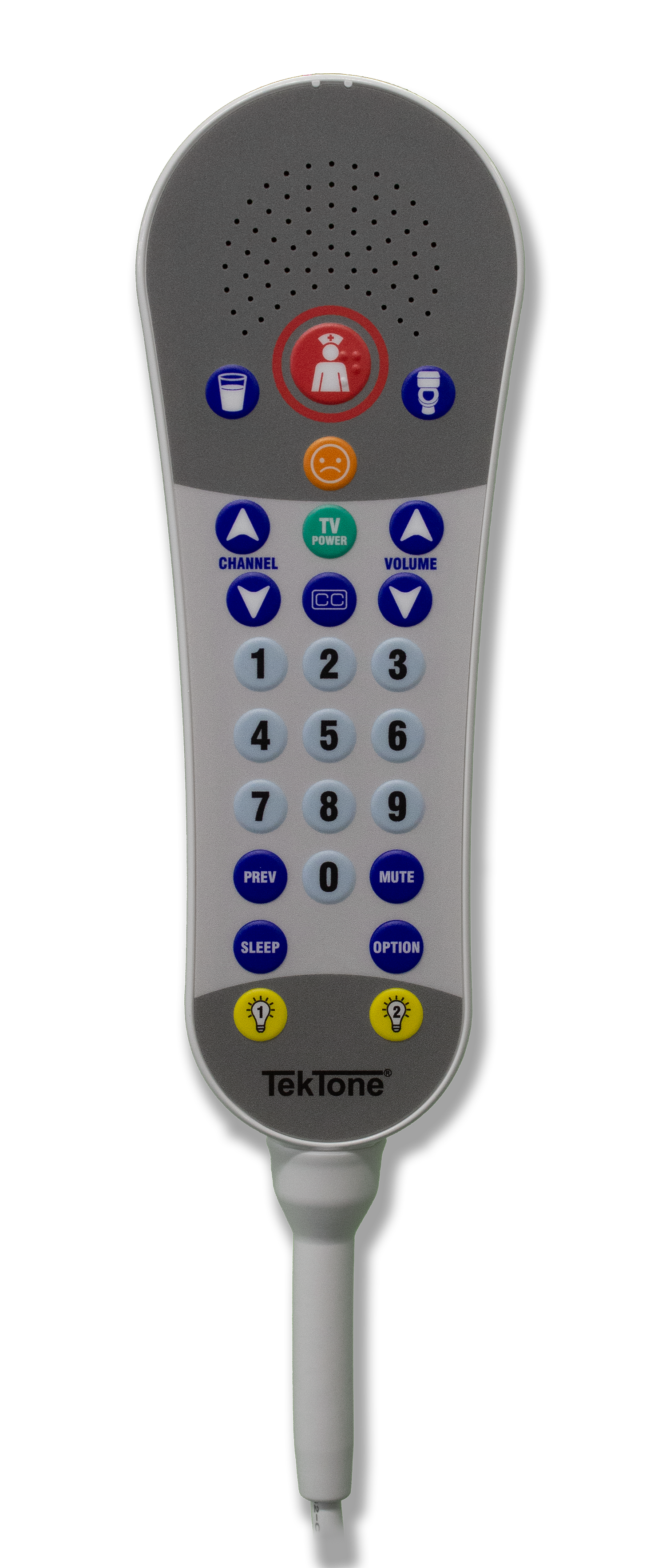 Modules
The PM422AP5 Pillow Speaker Module allows the IR421P5 and IR422P5 stations to interface with TekTone pillow speakers, providing lighting and TV control, as well as handsfree communication between the patient and nurses station.
The PM497 Backwards Compatibility Module ensures direct replacement of existing IR41X-series stations. When replacing a legacy station with a new IR42X-series station, the PM497 allows the new station to use existing SF3XX-series peripherals instead of having to replace all emergency or code blue switches to the SF123, saving time and money.
Enhanced Pillow Speaker
The SF42KLA pillow speaker provides a standard nurse call button to call for help, but also provides buttons for Water, Toilet and Pain, allowing staff to quickly assess the patient's needs and respond with the appropriate action.
The Complete Package
With these new stations, the Tek-CARE400 P5+ Nurse Call System can now be unveiled in its complete form. With all of the stations presented here, plus the previously announced Gen2 CE module, and the NC404TS and NC415AV master stations, this new system will accommodate needs in every type of healthcare facility.
The Tek-CARE400 P5+ offers two versatile, touchscreen master station options in the NC404TS and the NC415AV, allowing you to decide which option best fits your needs and your budget. Whether sleek and compact, or large with multiple call viewing options, the Tek-CARE400 P5+ provides master station options for your needs. Both masters utilize a handset option for two-way audio communication, and provide touchscreen capabilities. With these master stations at its core, the Tek-CARE400 P5+ is adaptable to the needs of each facility.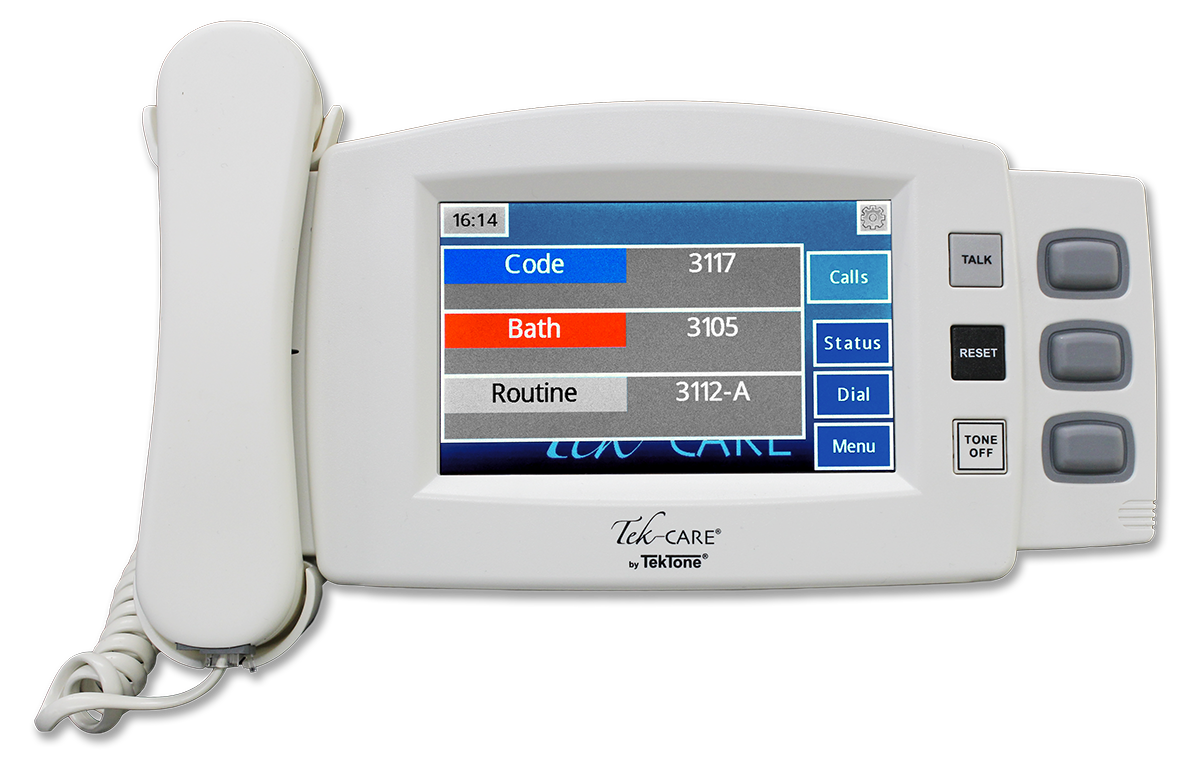 System features include:
New modern aesthetic
User-friendly interface
Two touchscreen master station options
Master station map view
Budget-friendly options
Customizable station buttons
Backwards compatibility
Full-duplex audio
Power over CAT5
Multi-color dome lights
Wireless telephone interface
ADT integration
UL® 1069 and UL® 2560 listing
Combined with the NC475 Tek-CARE Appliance Server, the Tek-CARE400 P5+ is a powerful new nurse call solution, providing options for reporting, third-party integration, mobile notifications via the Tek-CARE Staff App for iOS and Android, wander management, and much more.
For more information, please contact the sales department at 800.327.8466, option 2, or fill out our contact form.