In order for aspiring nurses to fully experience what daily life will be like in their new careers, they need exposure to the same equipment they'll use in area hospitals and other healthcare facilities.
That's why TekTone of Franklin recently designed, donated and installed a Tek-CARE® Nurse Call System in Southwestern Community College's new Health Sciences Center.
Valued at $39,615, the system allows patients to communicate immediately with nurses anytime they have a need or concern. At SCC, it allows students to simulate a real hospital room experience as they can make a connection to the "nurses' station," where classmates can fill out a chart on a computer and use a phone to respond to the call system.
 "We're very fortunate to have an industry leader like TekTone right here in our service area, and we are extremely privileged that they have equipped our new Health Sciences Center with the latest, state-of-the-art nurse call system," said Dr. Don Tomas, SCC President. "Thousands of future healthcare professionals in our area will benefit from this generous gift. We are most grateful for our fine community partners like TekTone."
This was not the first time TekTone provided equipment and support to SCC's Health Sciences students. When the college installed its first simulation lab in 2017, TekTone donated a Tek-CARE®400P5 nurse call system.
For the latest project, TekTone engineers attended SCC construction meetings and designed the Tek-CARE® system specifically to meet the new facility's needs.
"We want to become more involved in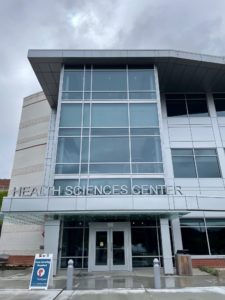 helping SCC train these students, many of whom will one day be in decision-making positions at healthcare facilities throughout the region," said Brad Hyder, TekTone's Marketing Manager. "Our hope is that they'll remember the positive experience they've had with this call system, and they'll recognize the value it can bring to whatever facility they're working in."
For more information about TekTone, visit TekTone.com.
To learn more about Southwestern, visit www.SouthwesternCC.edu, call 828.339.4000 or drop by your nearest SCC location.